Location: 516 West Franklin Street – Chapel Hill, NC
Website: www.alsburgershack.com
Dude, Angus, this is your first review for the Triangle Burger Blog!
I know! I am super pumped! Ever since starting my burger journey on the Charlotte Burger Blog, Hereford[ref]The guy with a ketchup bottle for a head.[/ref] and I have always talked about taking our quest out to other cities in North Carolina. Now that I have moved to the Triangle, I can do just that!
Do you think you can handle it?
It has been a little while since I have been out and about in the restaurant scene trying new and old versions of the classic American pastime of beef. I am actually a little nervous. But I have never been one to shy away from a double bacon cheeseburger (or any burger for that matter[ref]As my waistline can attest to…[/ref]) so I am for sure not going to stop now. I think I will do alright.
Where did you go for you inaugural review?
On the first day at the software company I currently work for in Chapel Hill, my Creative Director and fellow co-workers took me to a little joint called Al's Burger Shack. Knowing that I was a burger blogger from Charlotte, they were more than excited to show me what they had come to know as their favorite burger joint in Chapel Thrill. After having experienced it myself, I always said that this place would be my first review if I ever created the Triangle Burger Blog. And now a couple years later, here it is!
Al's Burger Shack is a modern interpretation of the classic burger stand. Their mission is to provide local, fresh, and sustainable food with a hefty dose of southern hospitality. All of Al's burgers come from North Carolina pasture-raised cattle and are all-natural, hormone and antibiotic-free. They also receive all of their produce from as many local farmers as possible and create all of their specialty toppings and dressings in house.
Needless to say, I have been here more than a few times since that first day back in 2014.
What is the atmosphere at Al's like?
Al's Burger Shack really is just that. A shack. Okay…Ok. It is a little larger than your run-of-the-mill shack, but just by a little. The Shack is located on the corner of Franklin and Graham Streets and comprises of a small brick building and a wooden terrace attached at the side. When you first walk in you are usually greeted with a long line. Most of the time your first steps are waiting at the outside of the door for a chance to get in. Al's is a fast-casual joint, so once you make it in you will walk up to the counter and place your order.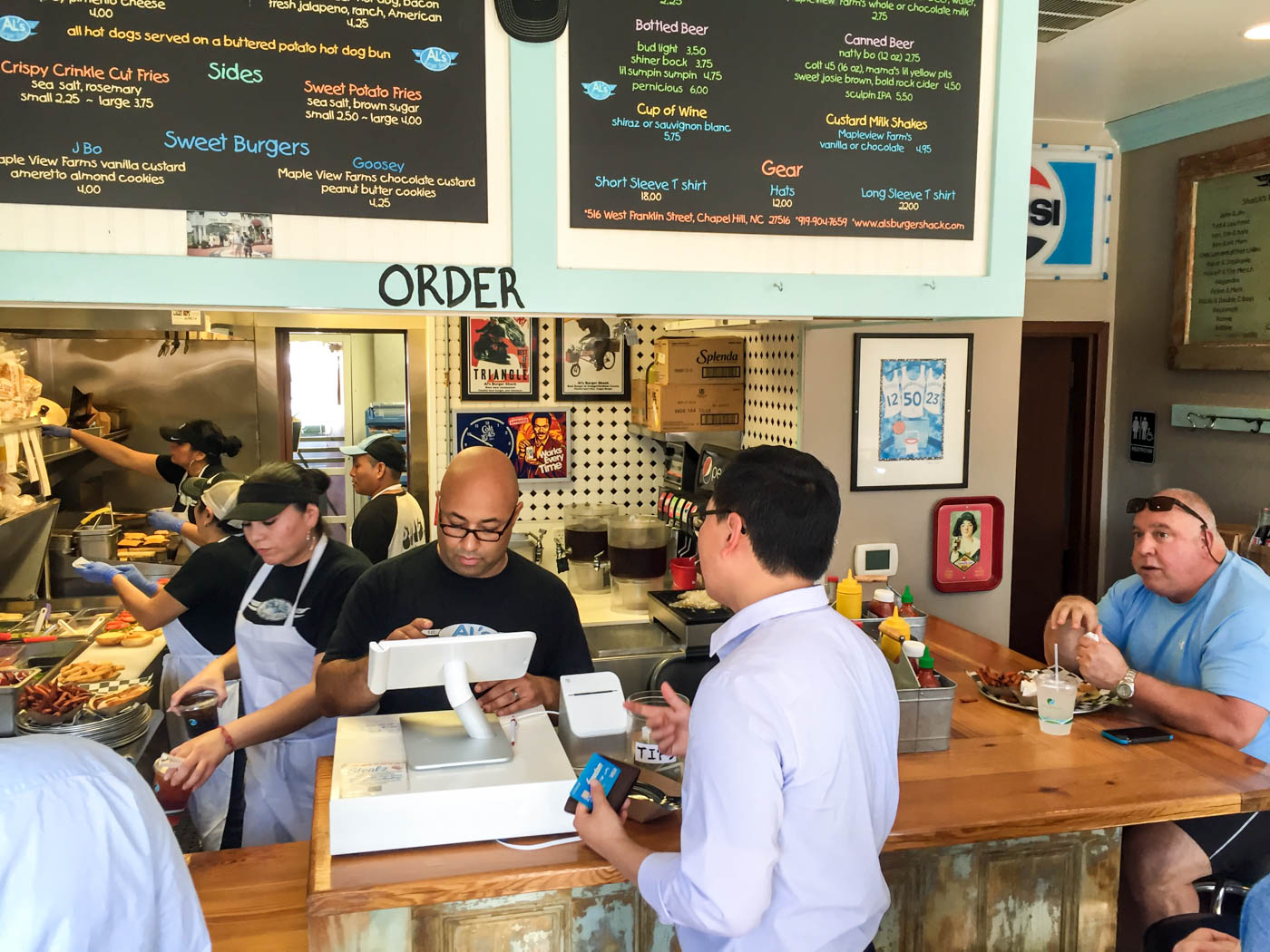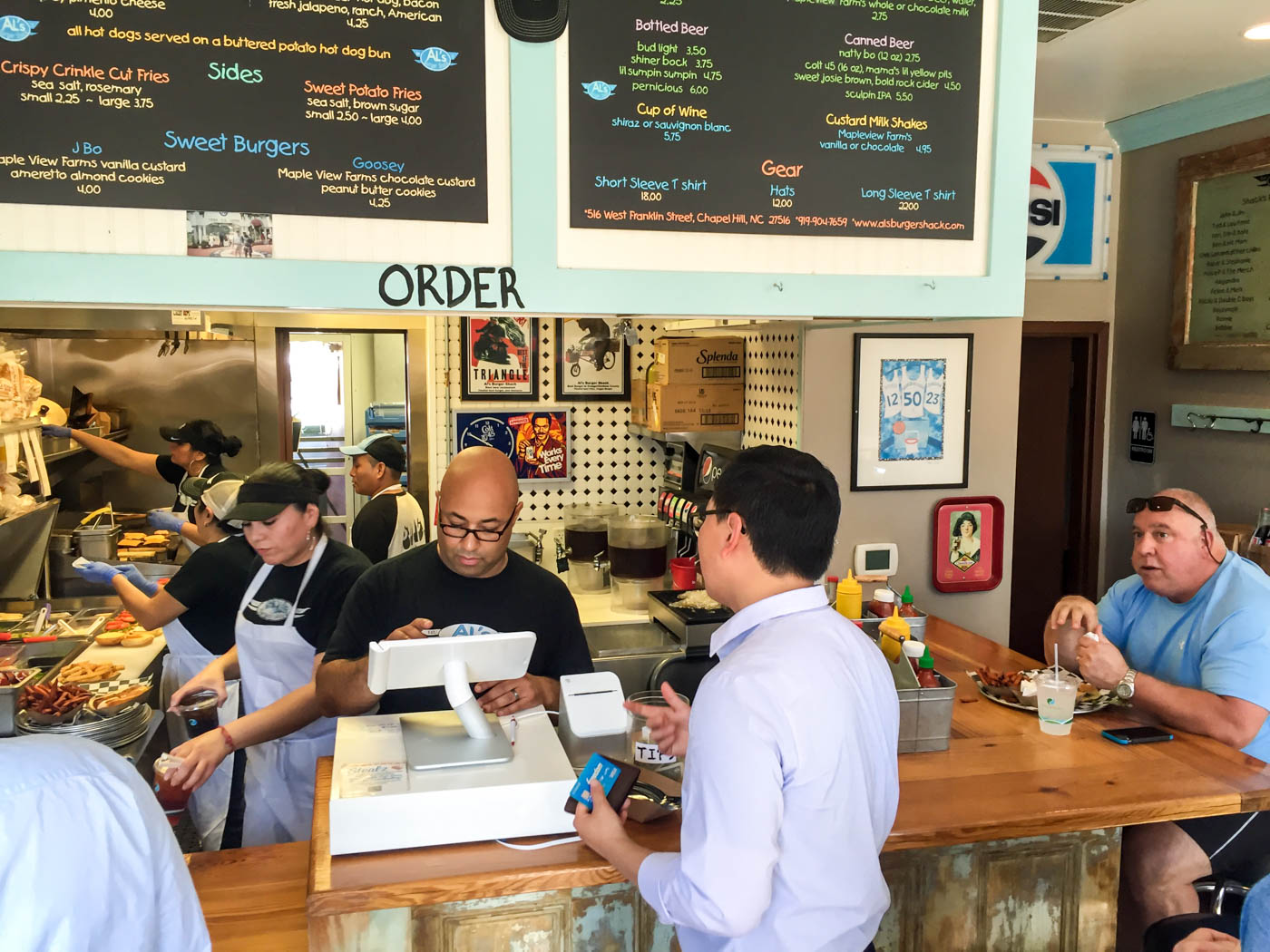 Inside the interior of the shack you will find counters along all the walls with barstools. It has been stated that almost 100% of the interior was recycled from the existing space and the counters and bar tops are made from reclaimed wood with some of the bricks for the patio steps being over 200 years old. The walls are decorated with UNC decor, but you will also find general North Carolina items (along with some awards sprinkled throughout).
The wooden terrace attached at the side is actually an additional outside eating area where you can enjoy your burger in the cool fresh spring air.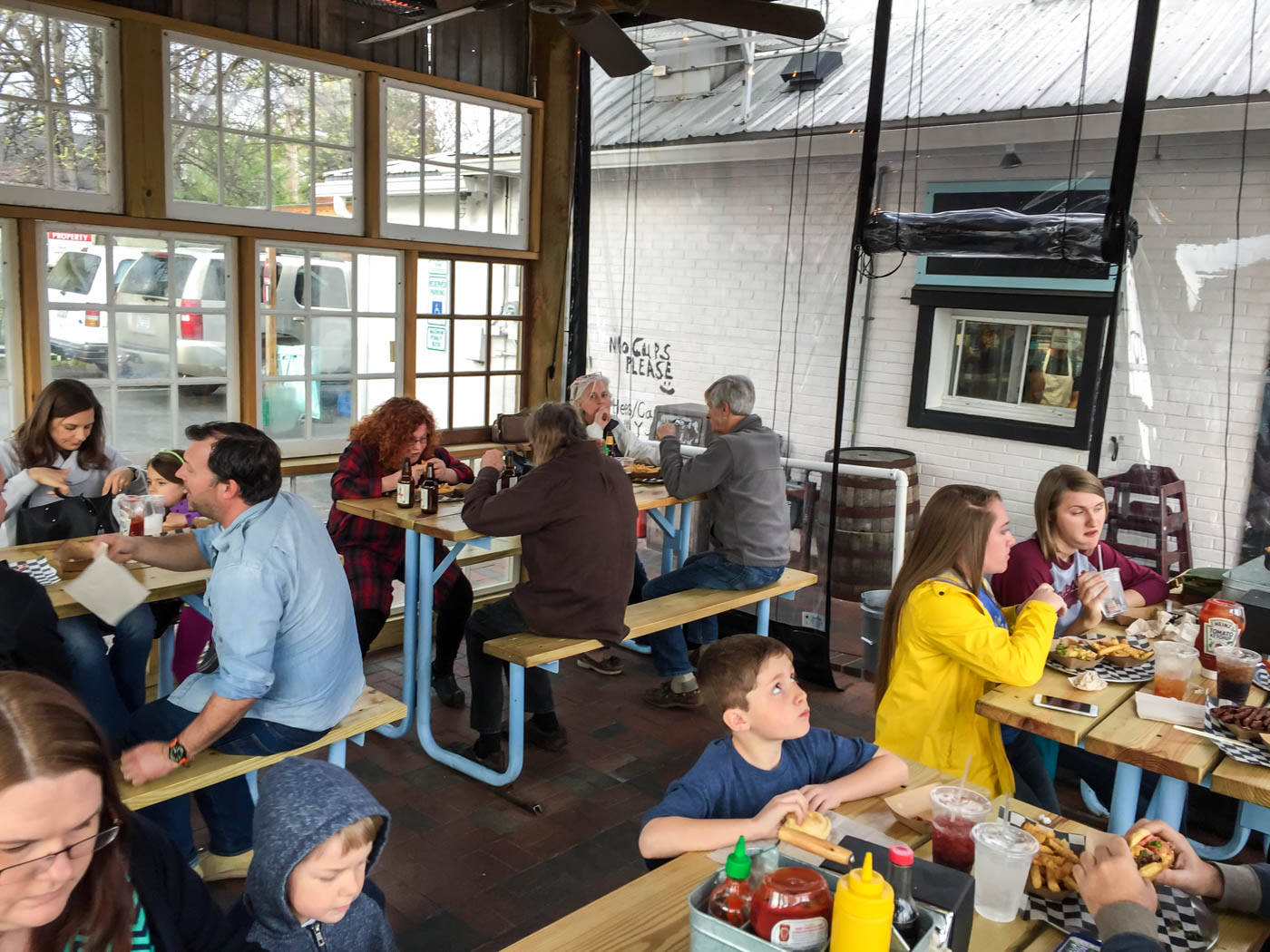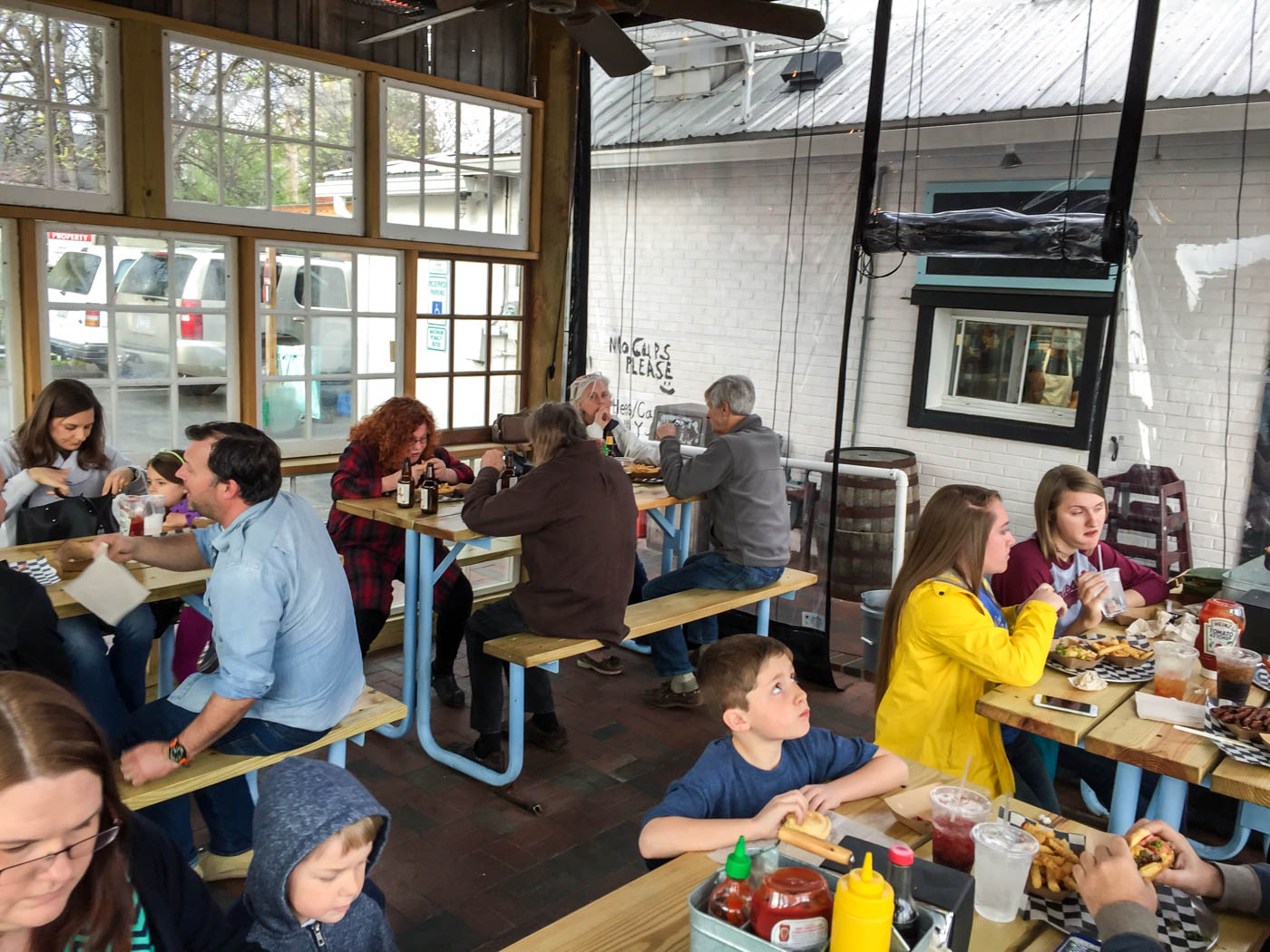 The terrace is enclosed and heated during the winter months, but the sides are able to be opened up and the fans turned on during the summer months. Seating outside is on reclaimed and recycled picnic tables and is set up for community dining. I think this is a great way to meet new and interesting people while enjoying a great meal[ref]Well, I think that, but maybe the other person just wants to eat their burger without some guy yelling at them to check out their burger blog.[/ref].
There is also a walkup window to pick up your order or to just get a quick refill. I should also note, that being outside means that you are not totally forgotten by Al's. Even though this is a fast casual joint, you will have some of the wait staff walk around and make sure everyone is set with their orders, their drinks, or to just make sure that they are having a great time. You will most always see Al himself walk around just to shoot the breeze with the people who are enjoying his burgers.
What beer did you order?
Well the thing is….I didn't.
WHAT.
I know. I know. It's pretty crazy. But I conducted the review during lunch at like 11:30am and I had my son Small Fry[ref]Yes, my son and wife (Mrs. Angus) get cool pen names too.[/ref] with me and I was still a little hungover from the night before[ref]Not really.[/ref] and I just felt like having a Cheerwine. So sue me.
Ok then. What beer did Al's have?
Al's serves regional craft beers from NC in both bottles and cans. They have a small selection which currently consist of Pernicious IPA from Wicked Weed Brewing (NC), Sweet Josie Brown Ale from Lonerider Brewing Company (NC), Bold Rock Cider (NC), and A Little Sumpin Sumpin Ale from Lagunitas (CA)[ref]Heck to the freak yes.[/ref] as well as a few others.
What type of burgers were there?
Al's provides a select variety of uniquely creative made to order burgers. From the standard staples of the Classic burger (LTO, pickles, Al's Sauce and American cheese) and Bobo Chili Cheeseburger (Chili sauce, slaw, chopped onion, mustard, and American cheese) to the more eclectic Mookie (bacon, onion jam, roasted garlic aioli, and blue marble[ref]Had to look this one up. Seems like it is Al's version of blue cheese.[/ref]) and Kenny J (bacon, grilled onions, Cheerwine BBQ sauce, and pimento cheese). And to top it all off, Al's also does a special burger of the day which is something that is totally off menu and unexpected. I believe I saw a special once that included three Al sized patties and most of the condiments in the building. It was really crazy.
So what burger did you decide on?
Well not to go too crazy with my first review back in this burger game, I went with the calm and always safe bacon cheeseburger, aptly named, Sean's Bacon Cheddarburger.
Wuss.
Yep. I know.
The Tale of the Tape: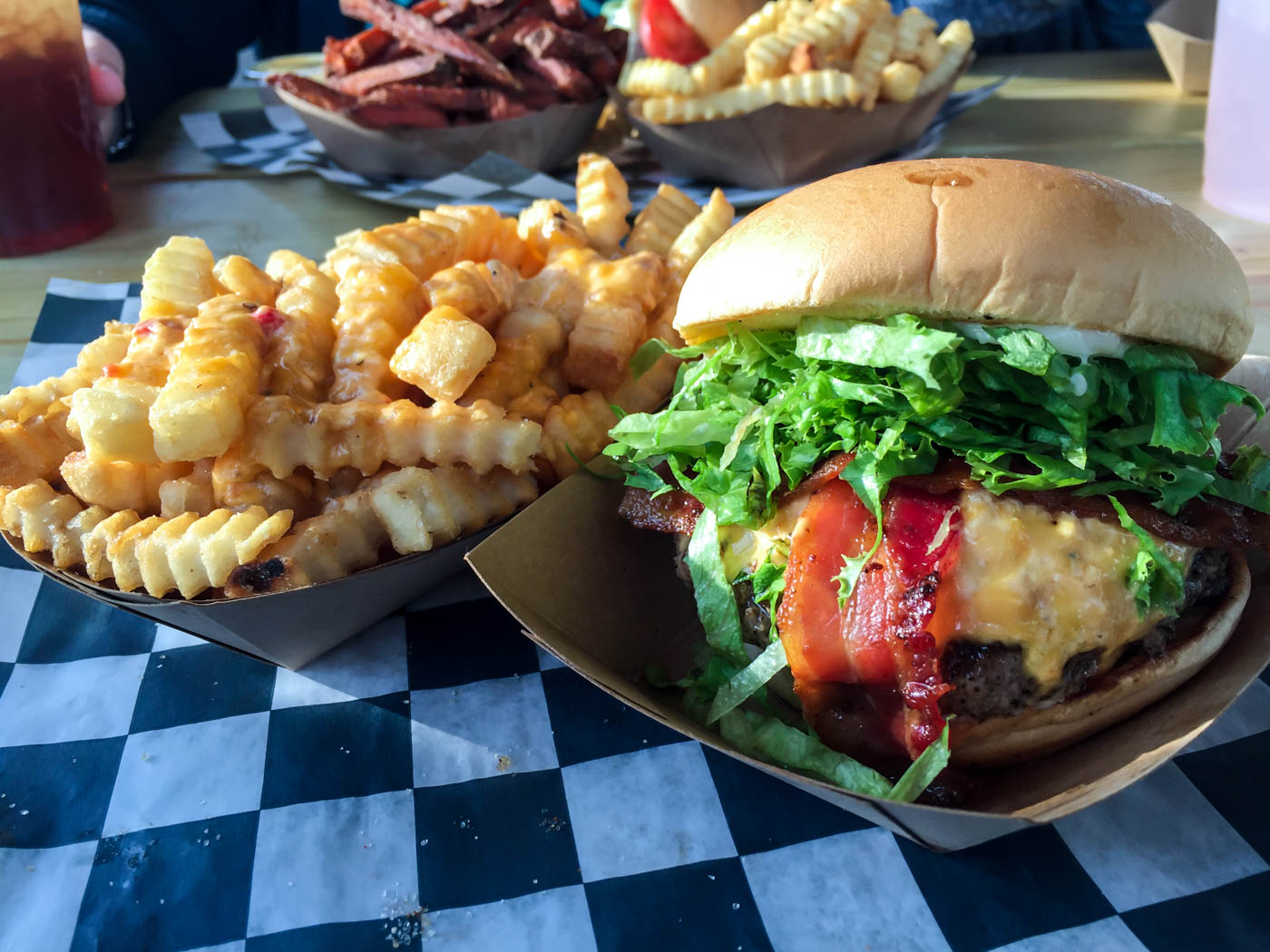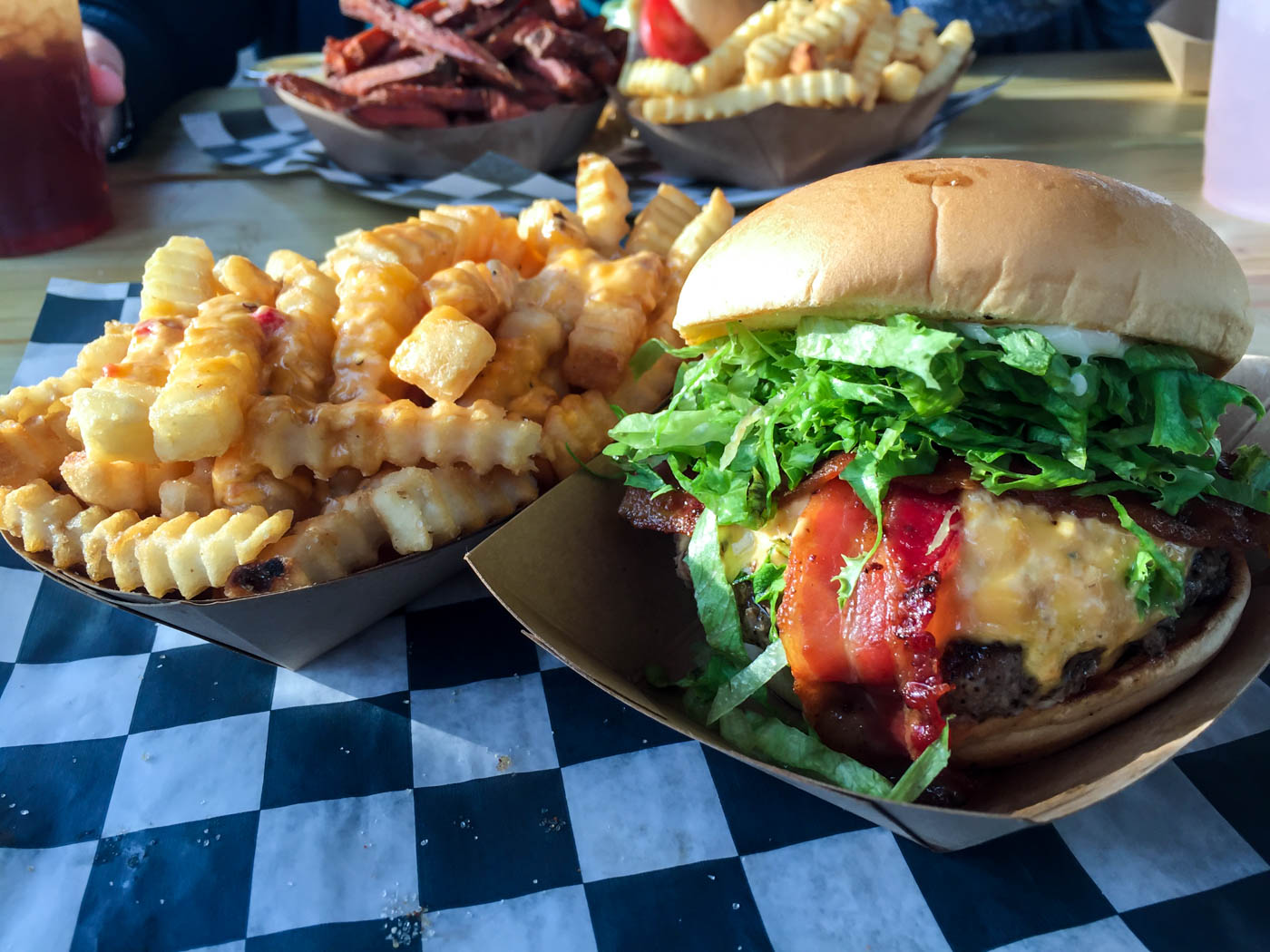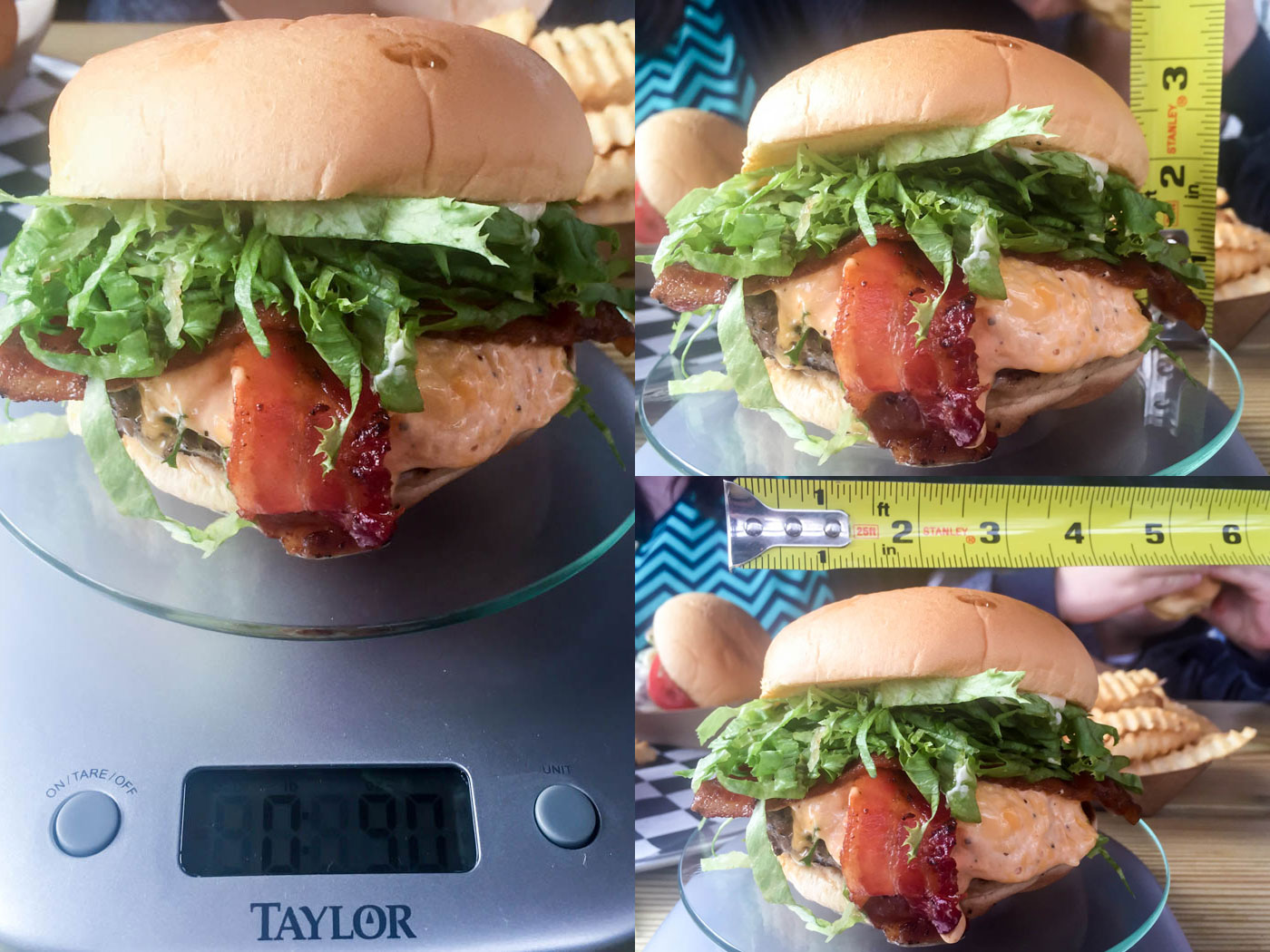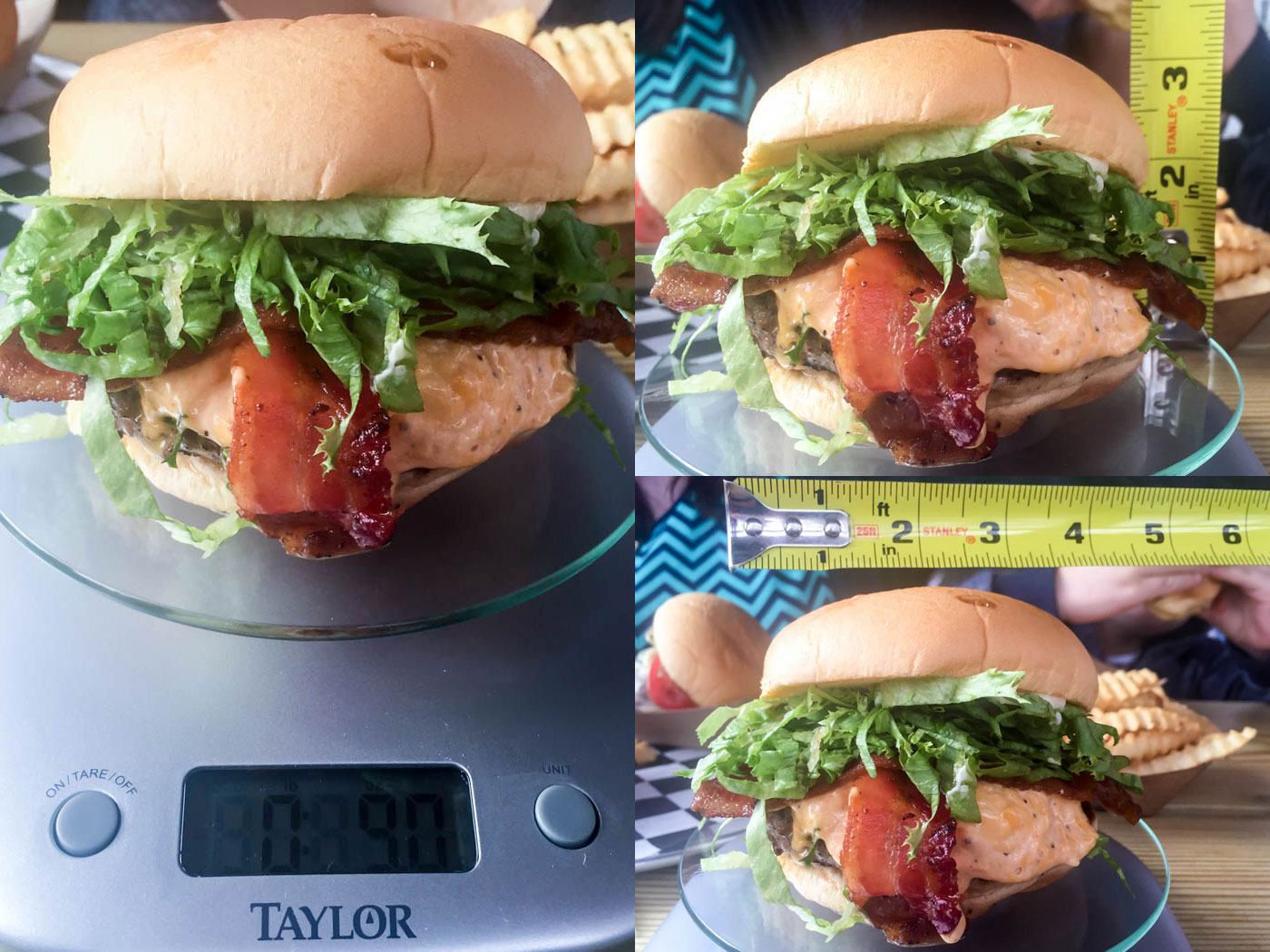 EXHIBIT A: SEAN'S BACON CHEDDARBURGER
(with bacon, lettuce, tomato, mayo, and cheddar)
Official Weight: 9 ounces
Official Diameter: 4 inches
Official Height: 3.25 inches
Cost: $7.75 (does not include side)
Cooked to order: Yes (but I forgot to order it that way…)
Side Note: I have been on a recent pimento cheese kick as of late so I substituted the cheddar that regularly comes on this burger with pimento cheese. I also ordered some pimento cheese fries to go with it (but more on that in a little bit).
All of Al's burgers a cooked to order so it comes out just the way you like it. The thing is, I totally forgot to tell them to cook mine rare[ref]Freakn' amateur status right here.[/ref]. That didn't matter much since all of Al's burgers are cooked to a nice medium (some pink in the center). I have had a rare burger cooked to order before at Al's, so I know it can be done (and it was glorious).
I picked up the order and it was piping hot with pimento cheese spilling out the sides. Also, as you can see from the pictures, the bacon that lay upon it was huge and thick[ref]Obligatory 'That's what she said' joke here.[/ref] and it was very hard for me to remember to get the weight and measurements before I took a bite out of it. After what felt like an eternity of measuring, I finally dove right in.
The immediate thing that hits you is the flavor and juiciness of the precisely cooked patty. It was a crisp patty on the outside (due to that fact that it was cooked on a flat top griddle) with the right amount of seasoning and juicy medium on the inside. I can definitely say that it has been quite awhile since I have had a perfectly cooked burger like this (even though I didn't order it rare).
Finishing the bite off is the nice thick and floppy bacon[ref]You'll come to know I like it floppy.[/ref] and the crisp bite of the pimento cheese. Pimento cheese is one of those cheeses (like blue cheese) that can ruin a burger if there is way too much or way too little of it. But the amount on the burger was just enough to give you that bite but not enough to overpower it. The burger was placed on a toasted buttered potato bun and topped off with shredded lettuce. Lettuce and I have a strange relationship[ref]Not as strange as a buddy of mine who literally hates lettuce. For real. HATES it.[/ref] in that I prefer my lettuce on my burger to be crisp and not flat and saggy. Al's lettuce is shredded and doesn't give a crisp crunch to the burger but I felt that it didn't take away from the burger as a whole.
Overall this was an amazing burger that I will (and have) order again.
Other Food:
Al's has a couple of items on their menu other than burgers, most specifically, hotdogs. There is also a spicy chicken sandwich named the Melly Mel as well as the Kaarin which is a vegetarian burger made out of sweet potatoes, black beans, and oats.
The sides you can get for your burger are either the crinkle cut fries or the sweet potato fries. I, of course went with the crinkle cut and added a nice dollop of pimento cheese onto the already sea salt and rosemary seasoned fries. I have always been a sucker for crinkle cut fries and adding pimento cheese just put it over the top. I highly[ref]HIGHLY[/ref] suggest it.
Al's also have a couple of dessert options called Sweet Burgers that are basically Maple View farms custard in between two cookies[ref]Yeah. I know. AWESOME.[/ref]
What was your favorite thing (non-food) about Al's?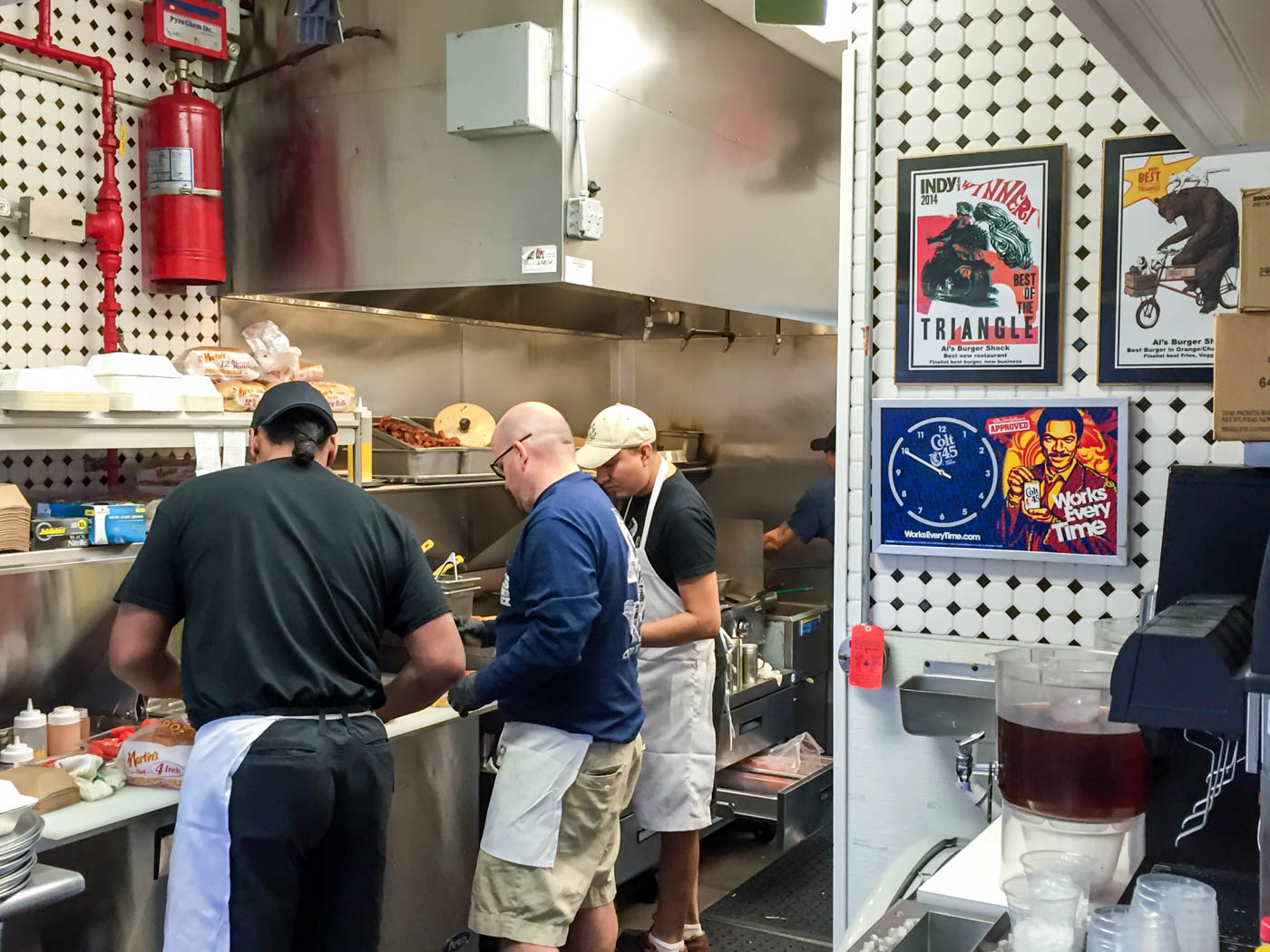 It's always good to have a Colt 45 clock on the wall with the always smooth Billy Dee Williams[ref]Who is actually coming back as their spokesman![/ref] watching over you while you eat.
Would you eat here again?
Abso-freakn-lutely. Actually if you are reading this during lunch, I have probably already walked down to Al's and am waiting in line to place my order.
Next time you come by, what will you order?
Most of the time when I eat at Al's and don't get a burger[ref]Gasp![/ref], I usually get the spicy chicken sandwich Melly Mel.
Does Al's Burger Shack earn the Triangle Burger Blog Seal of Approval?
Even though this is my first review as the Triangle Burger Blog I can say without a shadow of a doubt, yes. Most definitely, absolutely, positively, other word that ends in 'ly', YES.
Signed,