Location: 107 East Parrish St. Durham, NC 27701
Website: www.bullcityburgerandbrewery.com
Bull City Burger and Brewery is a locally owned restaurant and craft brewery located in downtown Durham. Being truly a "farm-to-fork" restaurant they work closely with North Carolina farmers to supply pasture-raised beef with no added hormones and are antibiotic-free for their daily freshly ground burgers. Also being a full scale working brewery, they provide up to eight beers that they brew in-house. In this review, Angus finds himself inside a mysterious brewpub filled with exotic meat, golden bulls, strange tattoos, and a Secret Burger.
How did you hear about Bull City Burger and Brewery?
Being relatively new to the Triangle area I had to do some initial research to build up The List. Oh? You don't know what The List is? Well first of all, anytime you mention The List you have to put it in all caps. Second, it is a running tally of all the burger joints that I need to visit during my quest of eating every burger in the Triangle and the surrounding area (and if you have a place you want me to try out you can always contact me!).
During this research I came across a few ramblings and hushed whisperings, of a place in downtown Durham that supposedly served exotic meat and had a very secretive burger named…. the Secret Burger[ref]Dun dun DUUUUUN.[/ref]. Investigating further, I started asking around trying to find out more about this mysterious place. A few people heard rumors while others have actually been there but couldn't explain to me how.
Suddenly, I was blacked bagged and thrown into a van and threatened to stop poking my nose into other peoples business. I was given the once over by a bruiser name Marv and thrown out to the gutter while going 20 miles per hour.
Holy geez! REALLY?!
Ok no. I was asking around at work and a friend pulled me aside gently and told me to go to a place called Bull City Burger and Brewery and to order the Secret Burger. Intrigued and super curious I asked what came on the burger and she said to me, "I can't tell you. You just have to order it". Well then. I guess I will.
So where is it at?
Fearing I was headed into some sort of Skull & Bones secret type of society, I made sure to go during the day and on a weekend, when I was sure there would be plenty of people. Bull City is located in Downtown Durham and was pretty easy to find. What was not easy to find was a parking space. I am not saying that there wasn't plenty of parking (paid lots or meters) that was there, its just that none were available. And the construction happening downtown right now sure doesn't help matters either. But it only took a couple of trips around the block when I found a spot on the street that was only a short hop skip and a small jump away from the entrance.
What is the atmosphere at Bull City Burger and Brewery like?
Walking in I found that Bull City resembled a lot like the classic german biergartens (albeit a little smaller), with the long community tables and open space.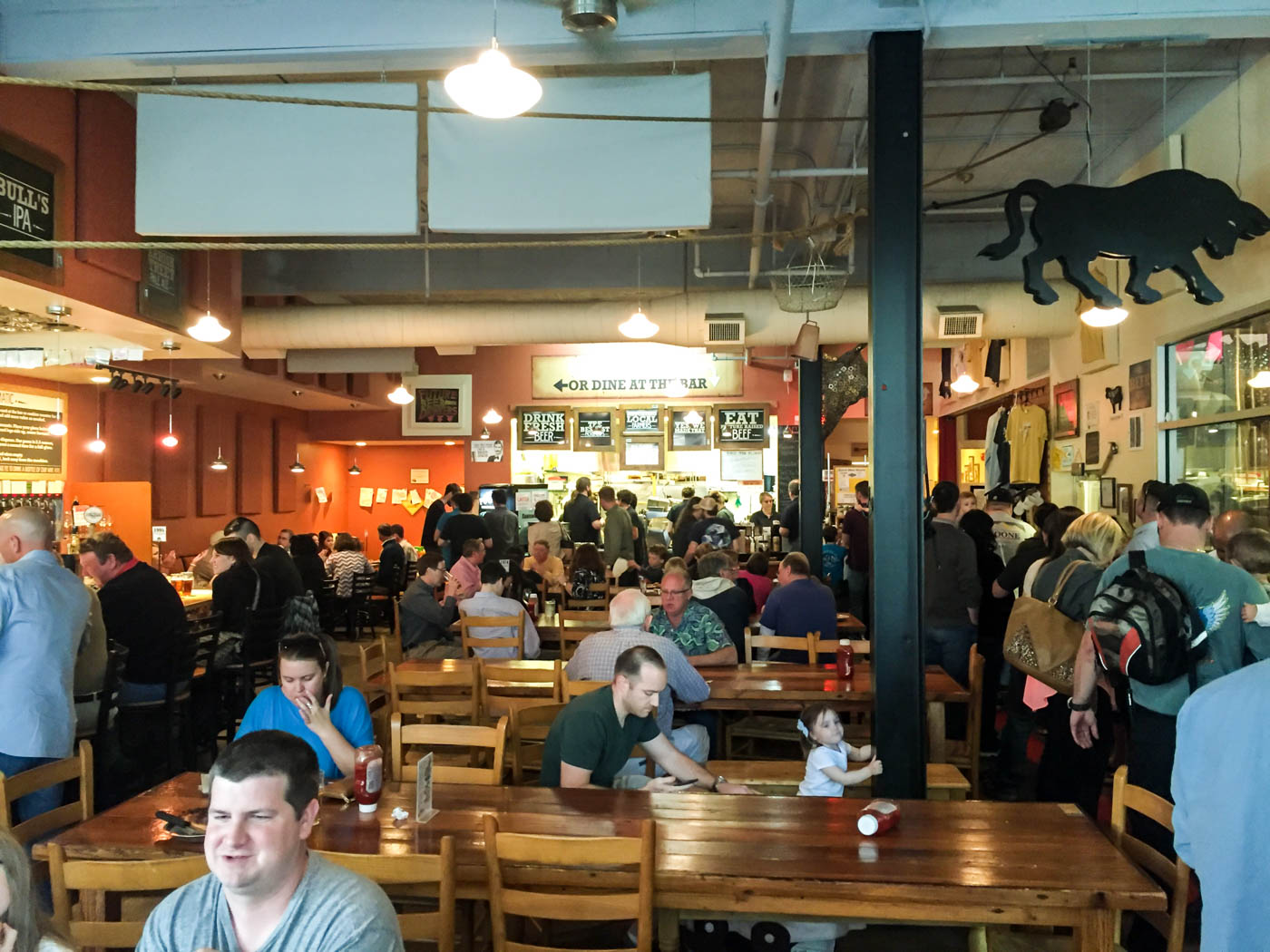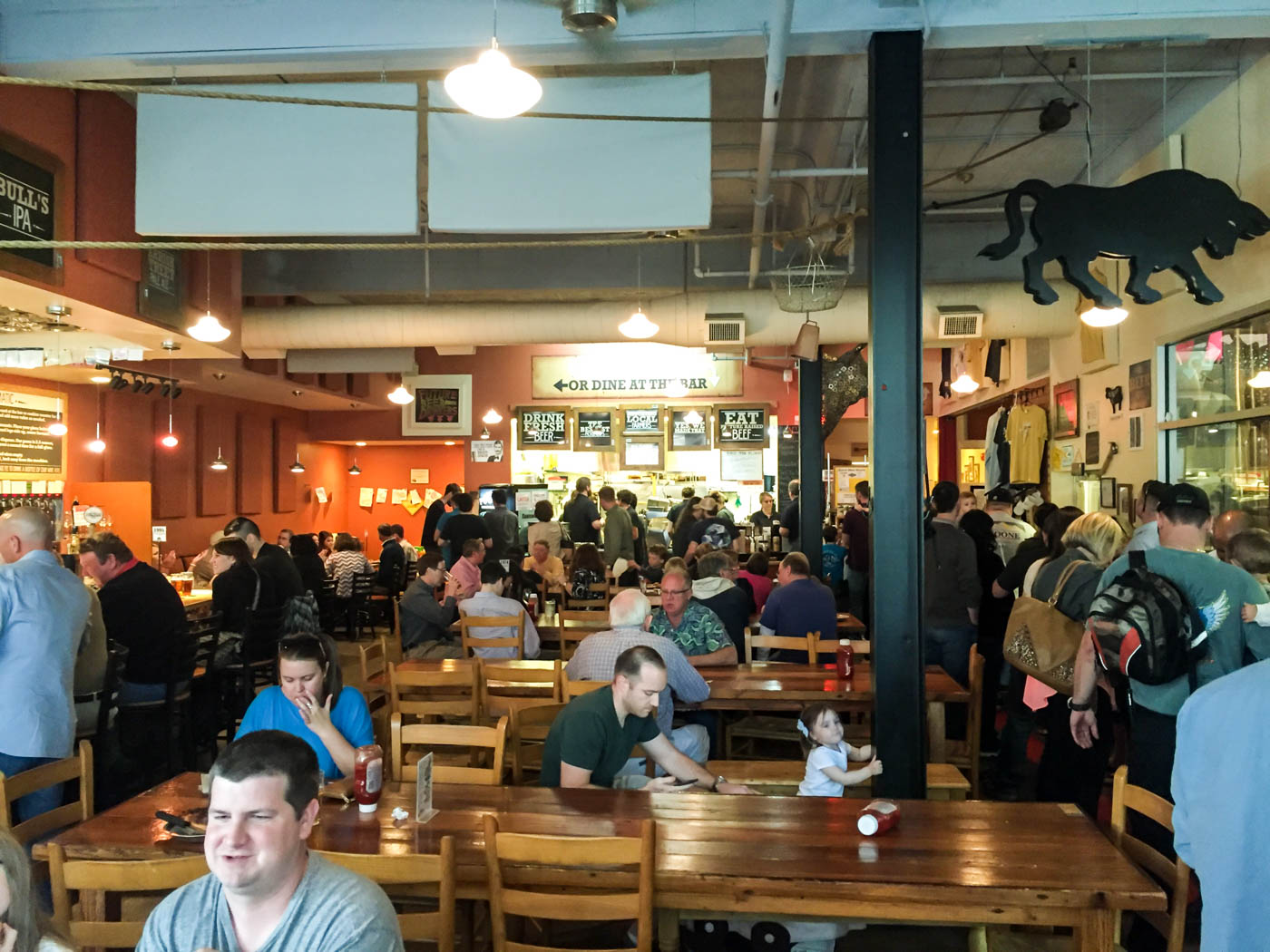 I also noticed that this was a fast-casual restaurant where you they take your order at the front counter (unless you sit at the bar, then you get the Bar Concierge Service[ref]Not at all what they call it. I just like the fancy way it sounds.[/ref]). Also Bull City's "front counter" was actually in the back, which turned out to be a smart move since there was a Disney-sized line leading up to it. The line was perfectly placed on the right side of the joint which gave you a up close view of the brewing tanks that they use to brew their own beer (which they have tours of most every Saturday at 4:00 PM!), and it was decorated with decor and merchandise from Bull City. I think I even saw a running tally they were keeping of "Converted Vegetarians". Hahaha. Amazing. I didn't mind the line so much as it gave us time to look over the menu and to chitty chat[ref]Yes. I chitty chat once in awhile.[/ref] about what beer we were going to get.
What beer did you order?
Before I talk about the beer, lets talk about the soda they had!
Soda?
Yes. Soda.
Fine.
They had this amazing carbonated beverage called Puck's Fountain Soda!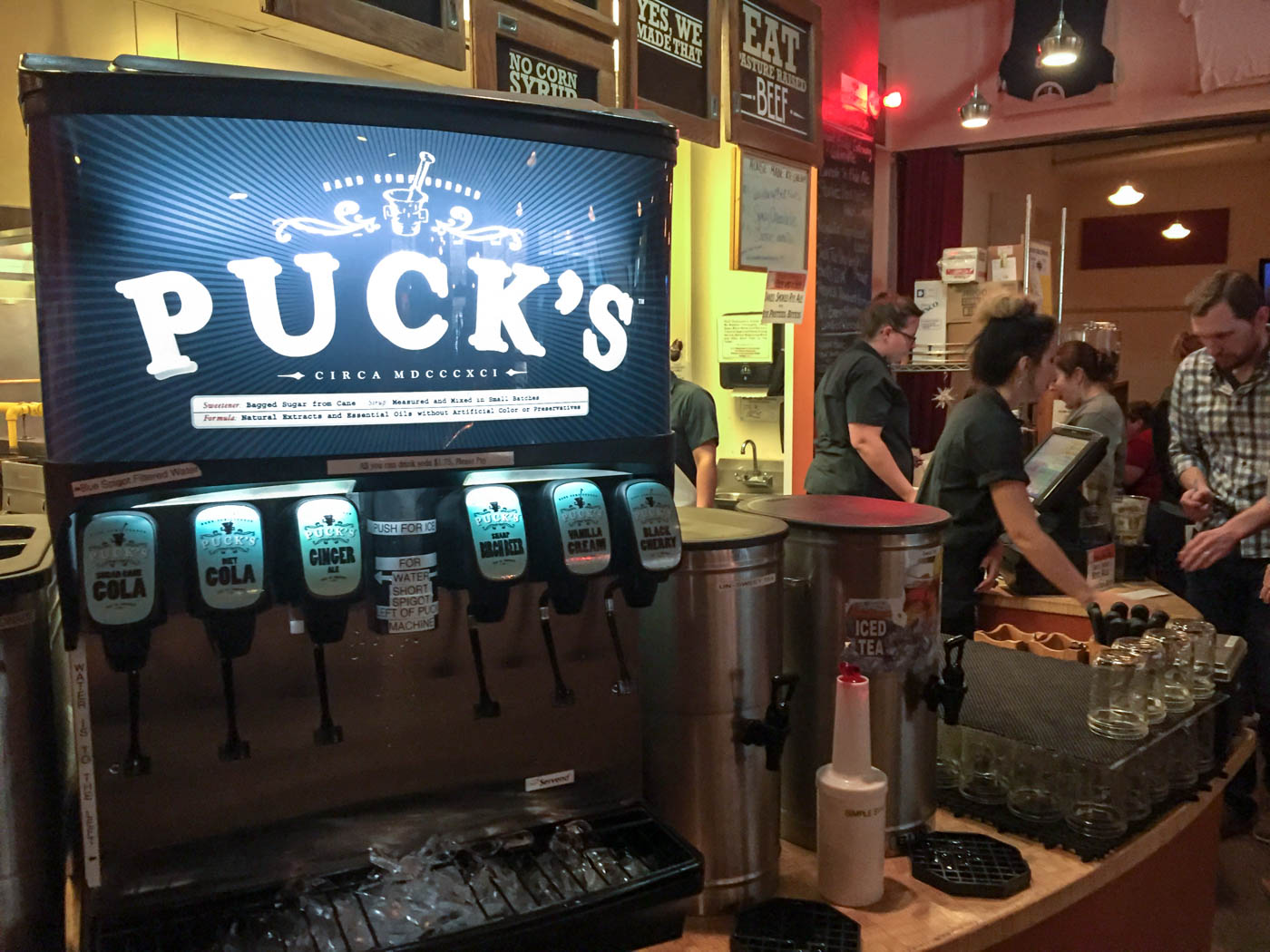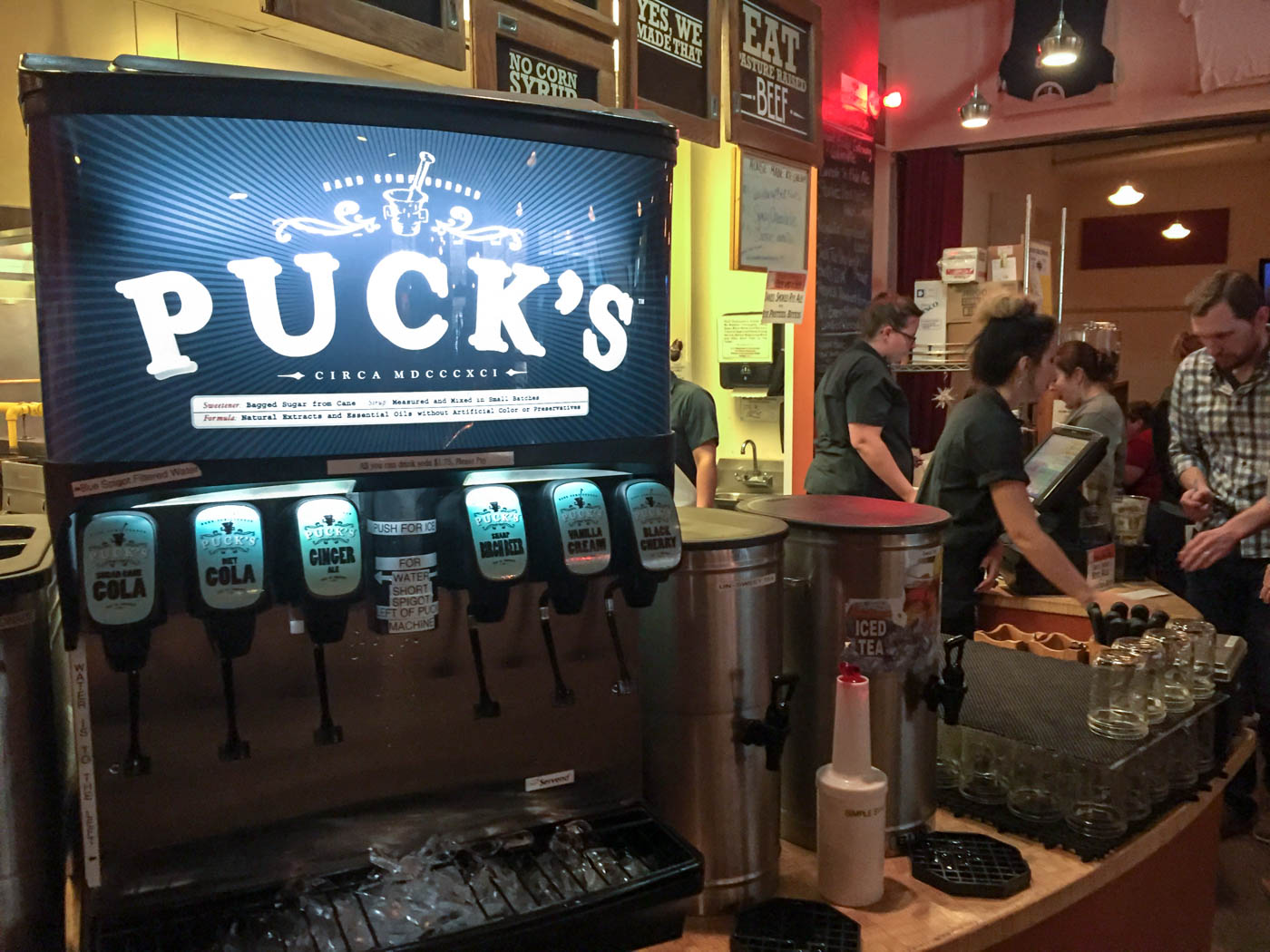 The design was super retro (the logo not the actual machine…) and they had all the classic fountain sodas like cola, ginger ale, birch beer (root beer), black cherry, and vanilla cream. It is stated on the Puck's website that all their sodas are made with pure cane sugar and only contained natural extracts and essential oils without the use of artificial colors or preservatives. Super cool and tasted that way also!
That is cool. But what beer did you get?
Bull City keeps a rotational of eight beers on tap year round (including their Beer of the Month). Looking over what they had currently I noticed that all the names have been derived from or had to deal with the city of Durham. I am all about staying local and I am a sucker for themed items. I just loved that they did this. I went with the Parrish Street Pale Ale, Mrs. Angus went with the Craft Beer of the Month, the Bull IPA, and Small fry had a white milk[ref]I swear that kid is already healthier than I am (which in itself is not hard) but he doesn't like soda or tea. He says they are "too spicy".[/ref].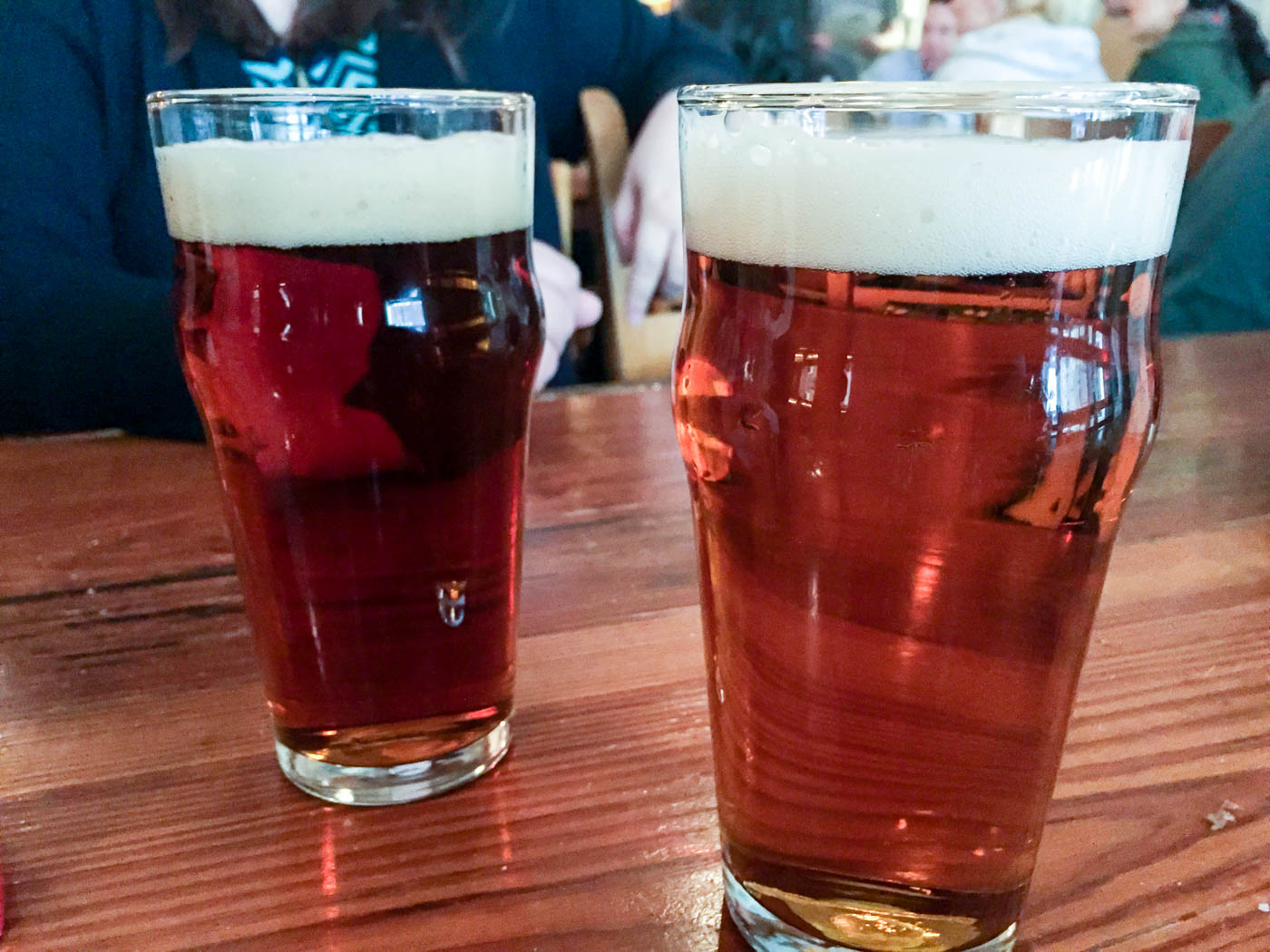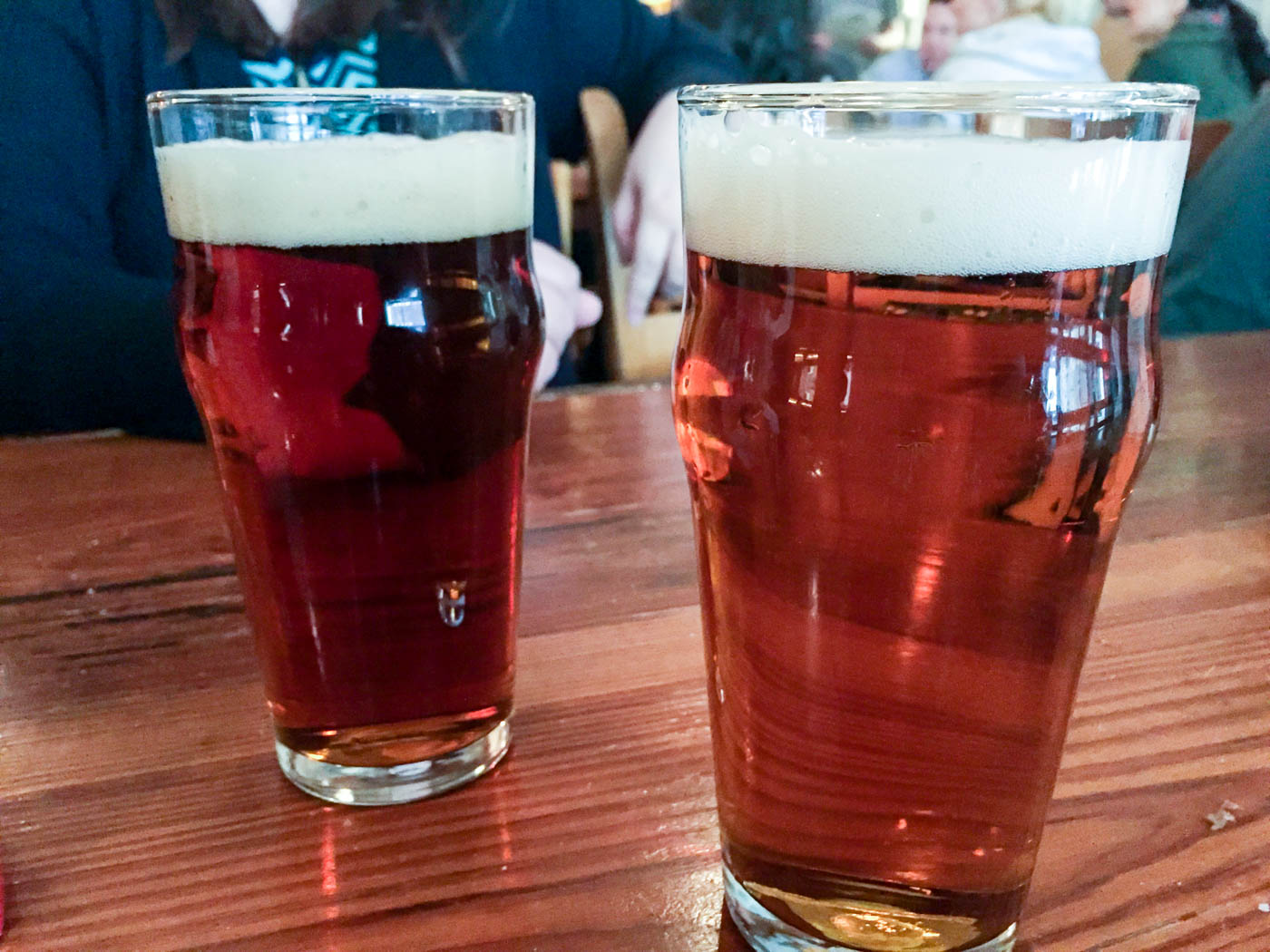 What type of burgers were there?
Bull City has about five different options of burgers such as a Pimento Burger, an Over Easy burger (fried egg), and a Bacon & Bleu burger. They also have a couple of options for a vegetarian burger, as well as an extensive add on list for you to build your own burger. What is the most interesting and craziest is that March is Exotic Meat month at Bull City.
Exotic Meat? Like Venison?
That's what I thought also. But delving into some more research[ref]Thats right! Stay in school kids![/ref] I found a full list of exotic meat they provide. Among the list was buffalo, alligator, elk, iguana, unicorn, jackalope, loch ness, and of course, sharkoctupus[ref]I am pretty sure that the last four are fake but can't be positive.[/ref]. The exotic meat that was on the menu the day I went, was python. 
But this is not what came here for. I came here for the elusive, mysterious, Fight Club-esque Secret Burger. Walking up to the counter I asked the waitress if they had a Secret Burger that was not on the menu. She said:
"I don't know, do we?"
Ok then. What is on it?
"I don't know"
Nice. Well, I will have one of those then.
The Tale of the Tape: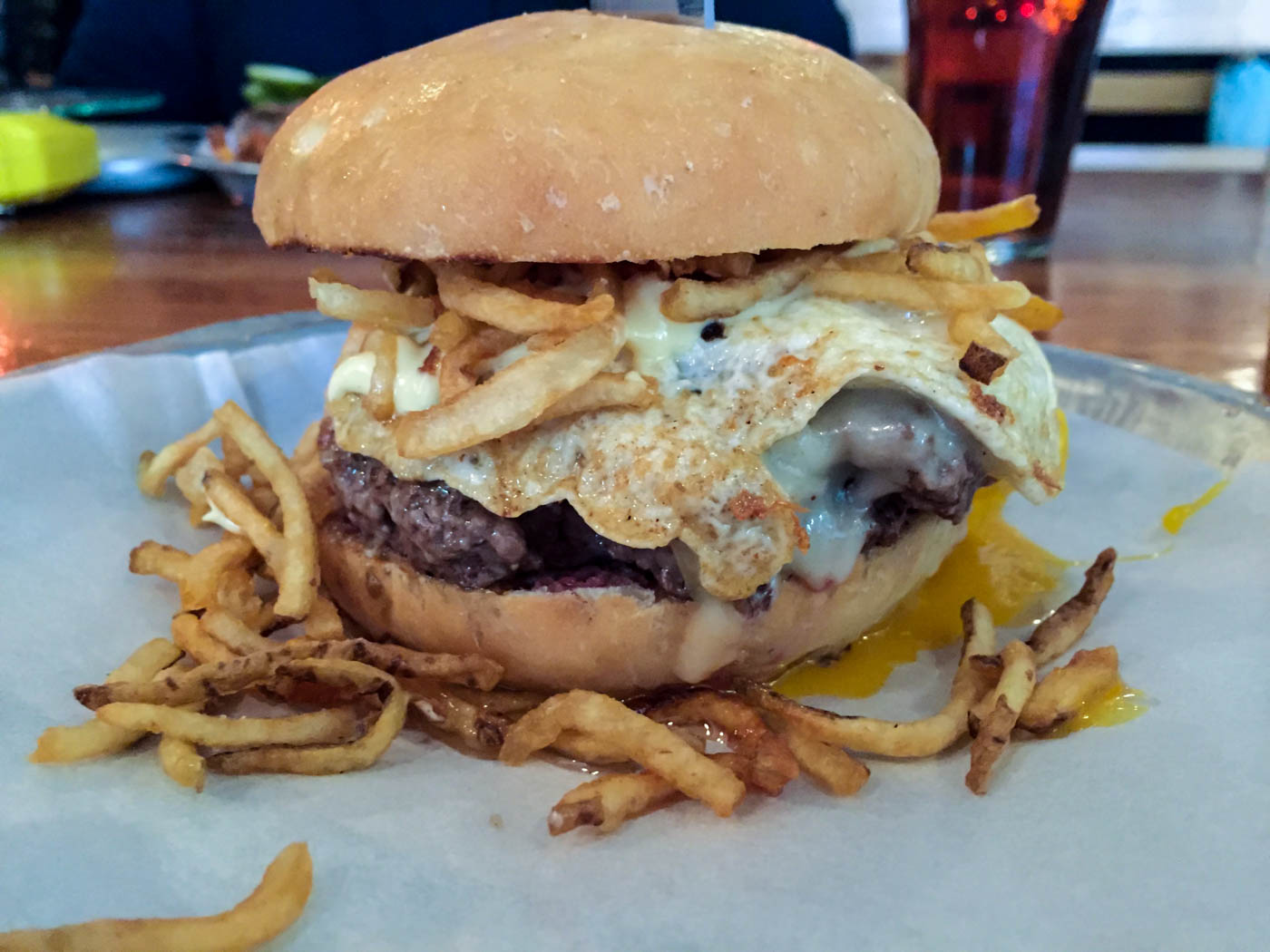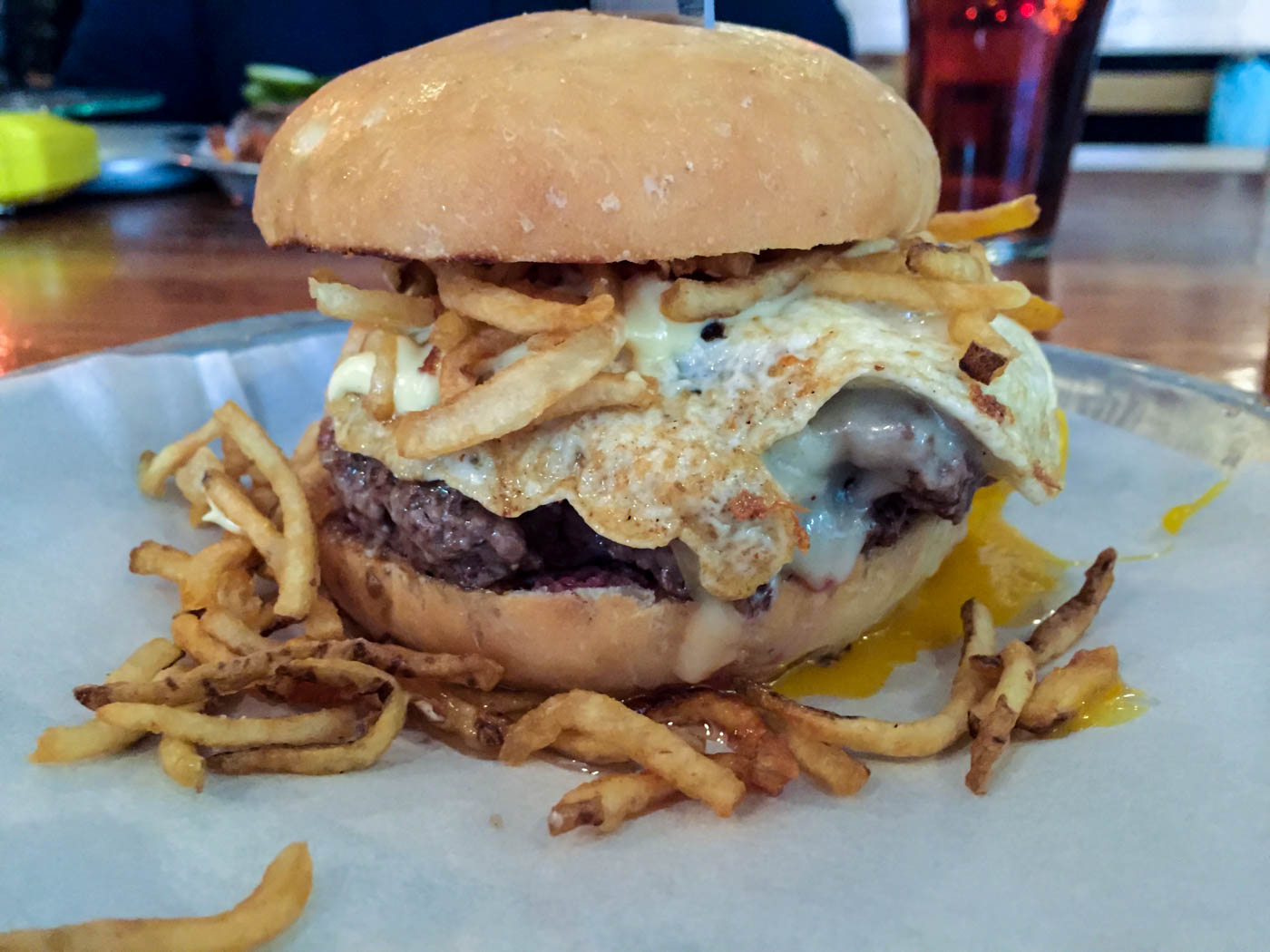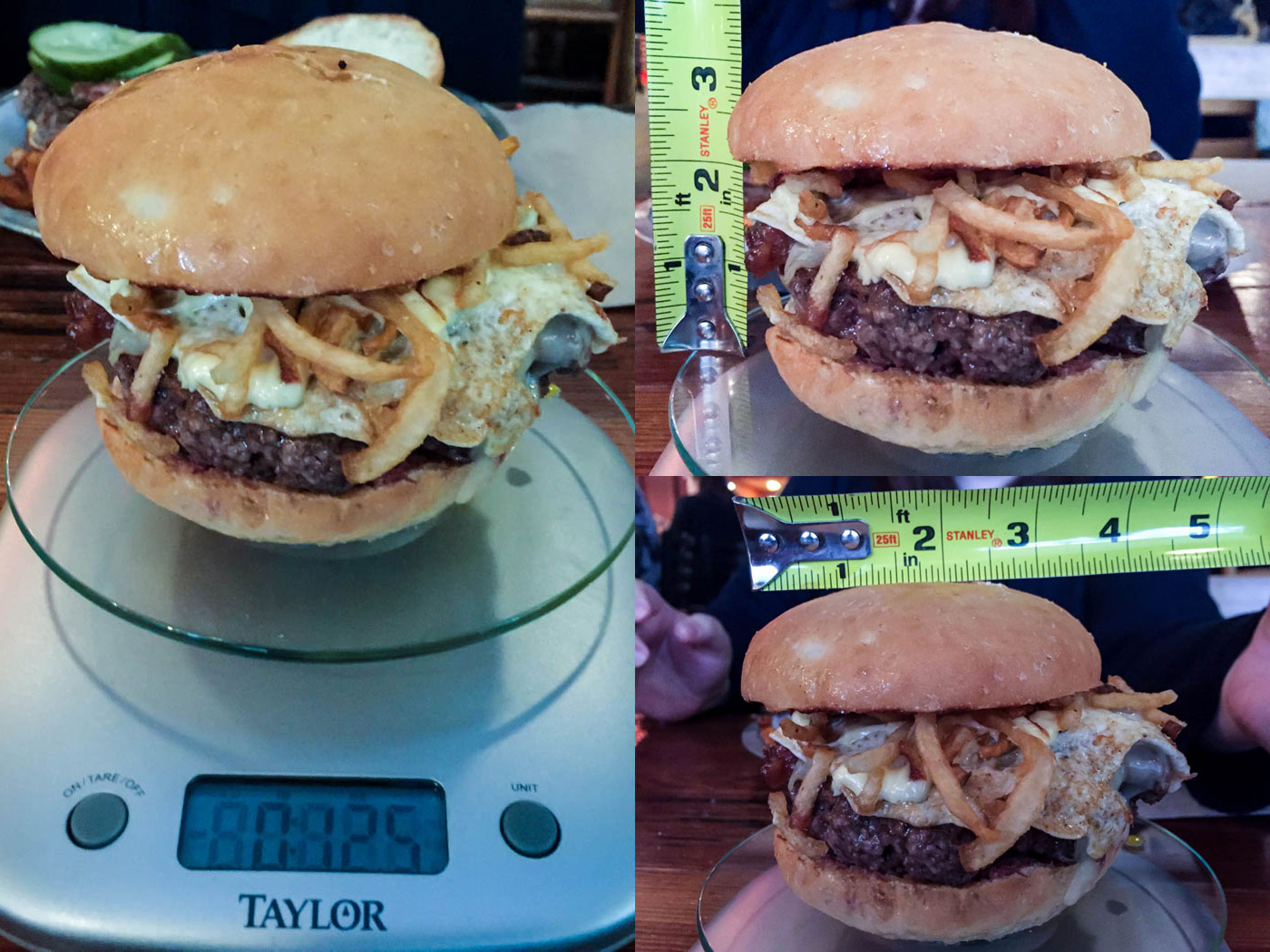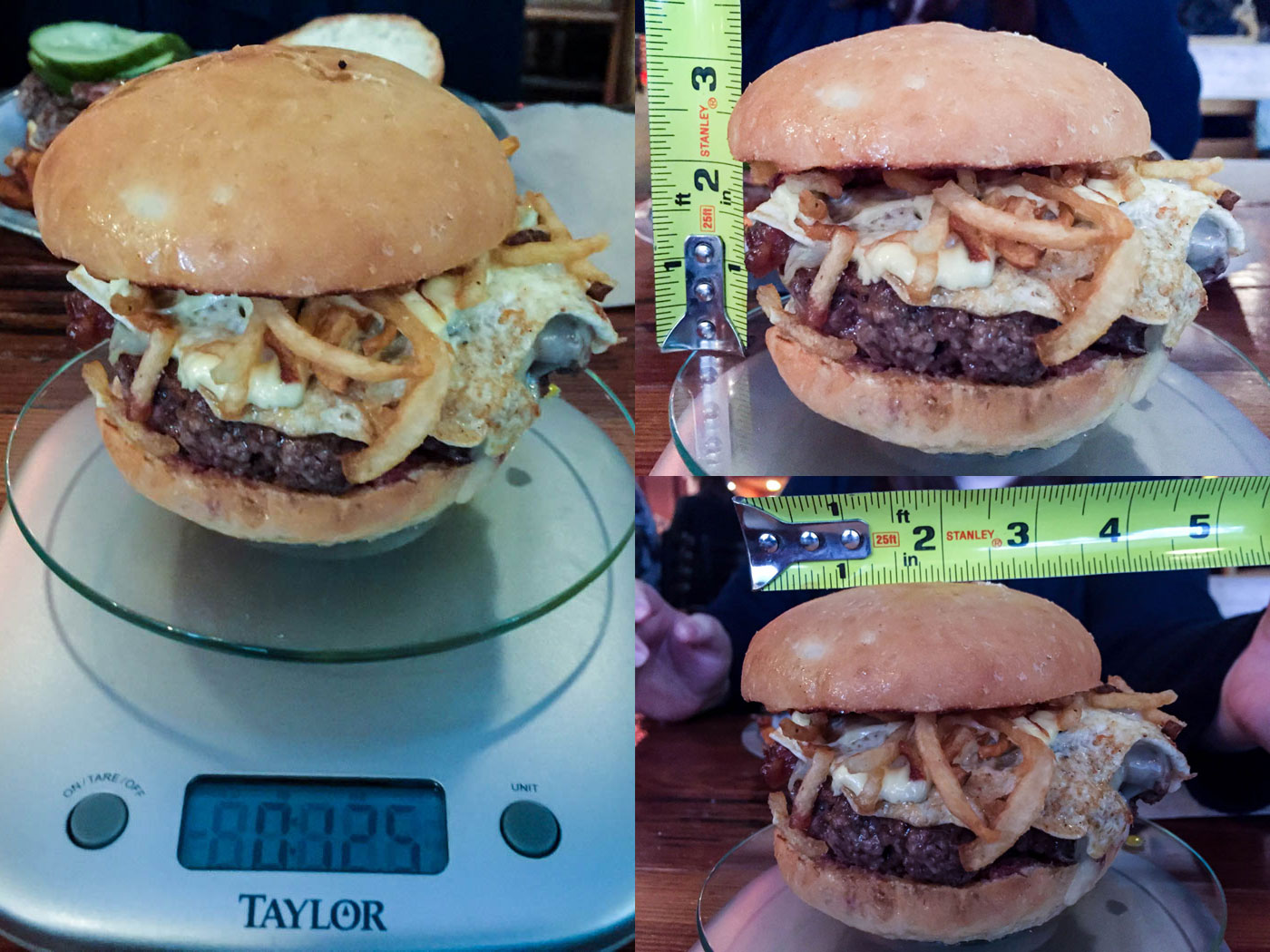 EXHIBIT A: SECRET BURGER
(with duck frites, bacon marmalade, Gruyere cheese, and an over-easy egg. )
Official Weight: 12.5 oz
Official Diameter: 4 in
Official Height: 3.25 in
Cost: $13 (does not include sides)
Cooked to order: YES. Rare.
Ok. As this is the Triangle Burger Blog and you all in the Triangle area don't know me very well[ref]YET.[/ref], you need to understand exactly what I just did. The act of ordering a burger, sight unseen, not knowing what actually came on it, was actually super scary and terrified the heck out of me. I mean, this Secret Burger could have came out with anything on it. ANYTHING. You know, like it could have been JUST VEGETABLES[ref]Scary thought. I know.[/ref]. But what came out on my plate was the best possible outcome that I could have ever imagined.
When the Secret Burger came out it almost blinded me with all its glory. After my eyes adjusted I could finally see what came on it. On the freshly toasted bun there appeared to be fries, bacon, cheese, and an over easy egg. But when I bit into it, it happened to be much more than just that.
Taking that first bite you first notice the crunch of the french fries and the amazing taste that came with it. In my panicked state I grabbed a waitress walking by and asked what these fries were she explained that they were Duck Frites[ref]I am telling ya… Frites = Fancy.[/ref] and that they were freshly cut, fried in DUCK FAT, and topped with rosemary and fleur de sel[ref]Fancy salt.[/ref]. WHAT. The bacon was actually a bacon marmalade and gave the whole bite a sweet yet savory note that accompanied the burger freakn' well. The cheese was Gruyere, which I can't say that I have had often, but reminded me a lot of how Mozzerella tastes, and was a great choice that bound the burger together. Rounding it all off was the accompanying over-easy egg (which I prefer mine to be over-medium) but the freshly baked bun soaked in the yoke and there was hardly any spillage. It added a nice base note to the whole experience.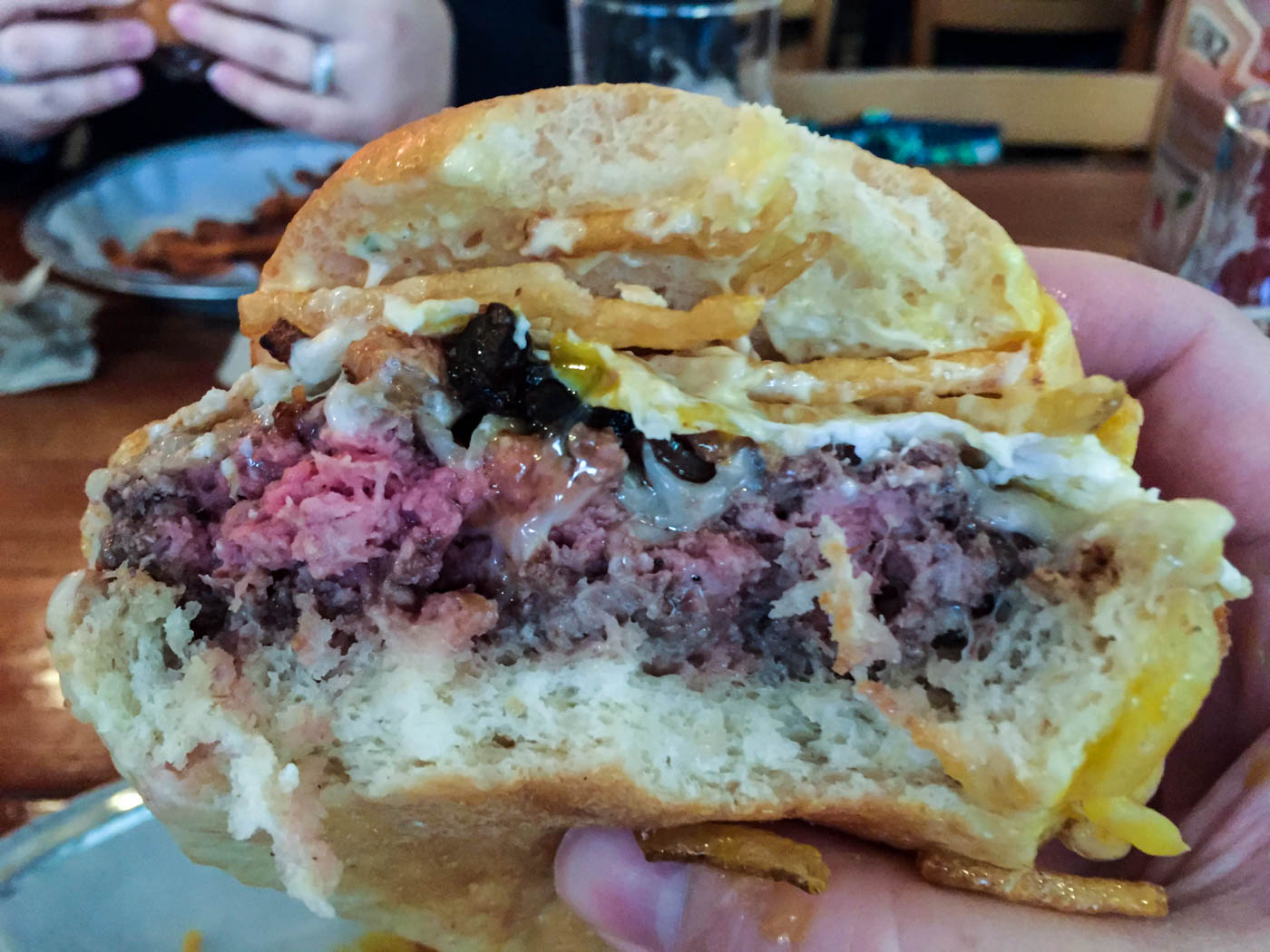 Now I haven't forgotten about the patty. Oh heck no. Any place that actually offers a cooking temperature for my burger means that I get to eat a finely cooked rare patty. And Bull City was no exception. The patty came out perfectly with a nice charred outside and cool red inside. The seasoning they cooked with blended well with the freshly ground patty and this was an overall amazing foundation that finished off this burger.
Now this is an amazing burger and why wouldn't you tell everyone you know about it[ref]Like I am doing now. Please don't hurt me Bull City.[/ref]? Maybe it is because that this is not actually the Secret Burger at all. Or maybe because that it actually is the Secret Burger. Lost yet? Come on this journey of deception with me real quick.
Maybe the reason that no one truly knows what the Secret Burger is, is because it is an always changing, always evolving form of a burger. Think chef's choice. So no matter what day you order it, he just makes it up on the spot. Heck it could be every time someone orders it in a given day. So the guy five people ahead of me got something different than myself or the guy five people behind me[ref]This is some high level conspiracy junk right here. I might need to stop before I get flagged by the hackers that Bull City employs. [/ref]. Whoa.
Other Food:
Not only does Bull City have burgers but they offer Pre-Burgers[ref]Appetizers.[/ref] as well. Such as an award winning chili, soft pretzels, pimento cheese and kale dip, and Bull Nuts. Yes. Bull Nuts. No before you get all excited like I did, they are actually just NC crunchy peanuts with bacon, caramelized sugar and salt. Still sounds amazing. I freakn' wish I ordered some. They also have a fine list of hot dog options, fries, and dessert.
But, of course, I had to try the Python Slider they were offering. It was the end of March and this was the last exotic meat they would have. The description said that it came with Sriracha aioli and tiny farm lettuce. And, yes it did.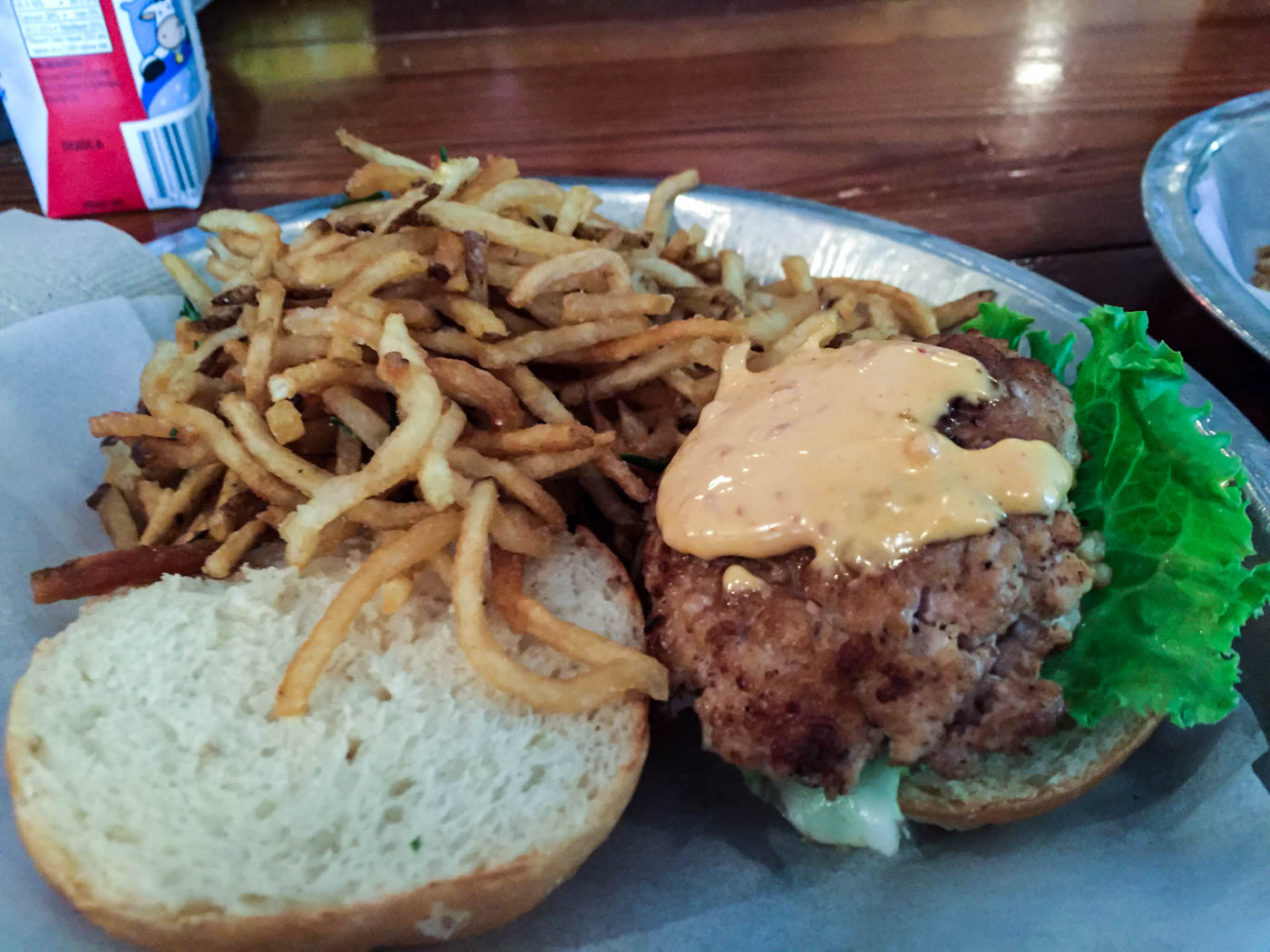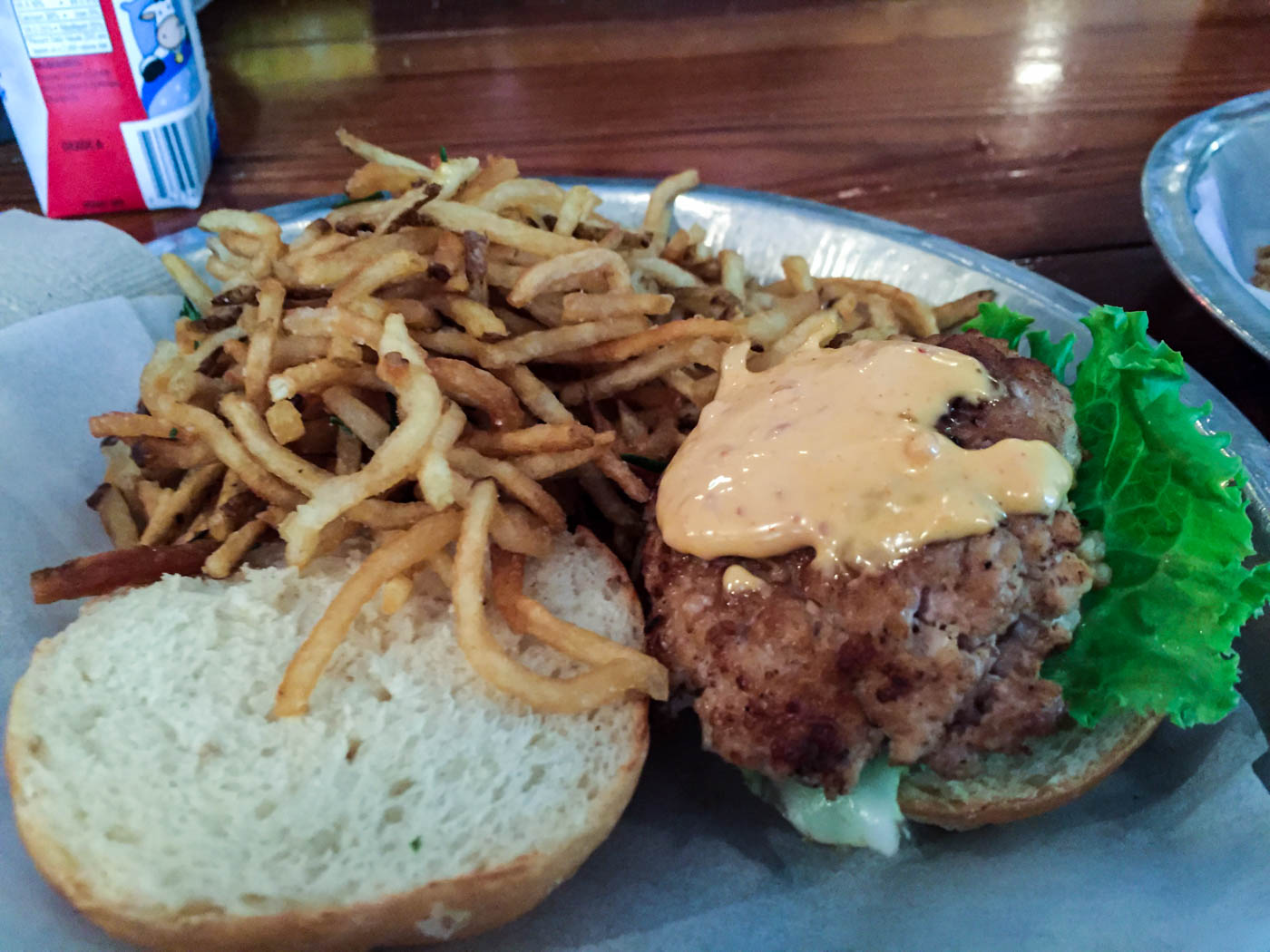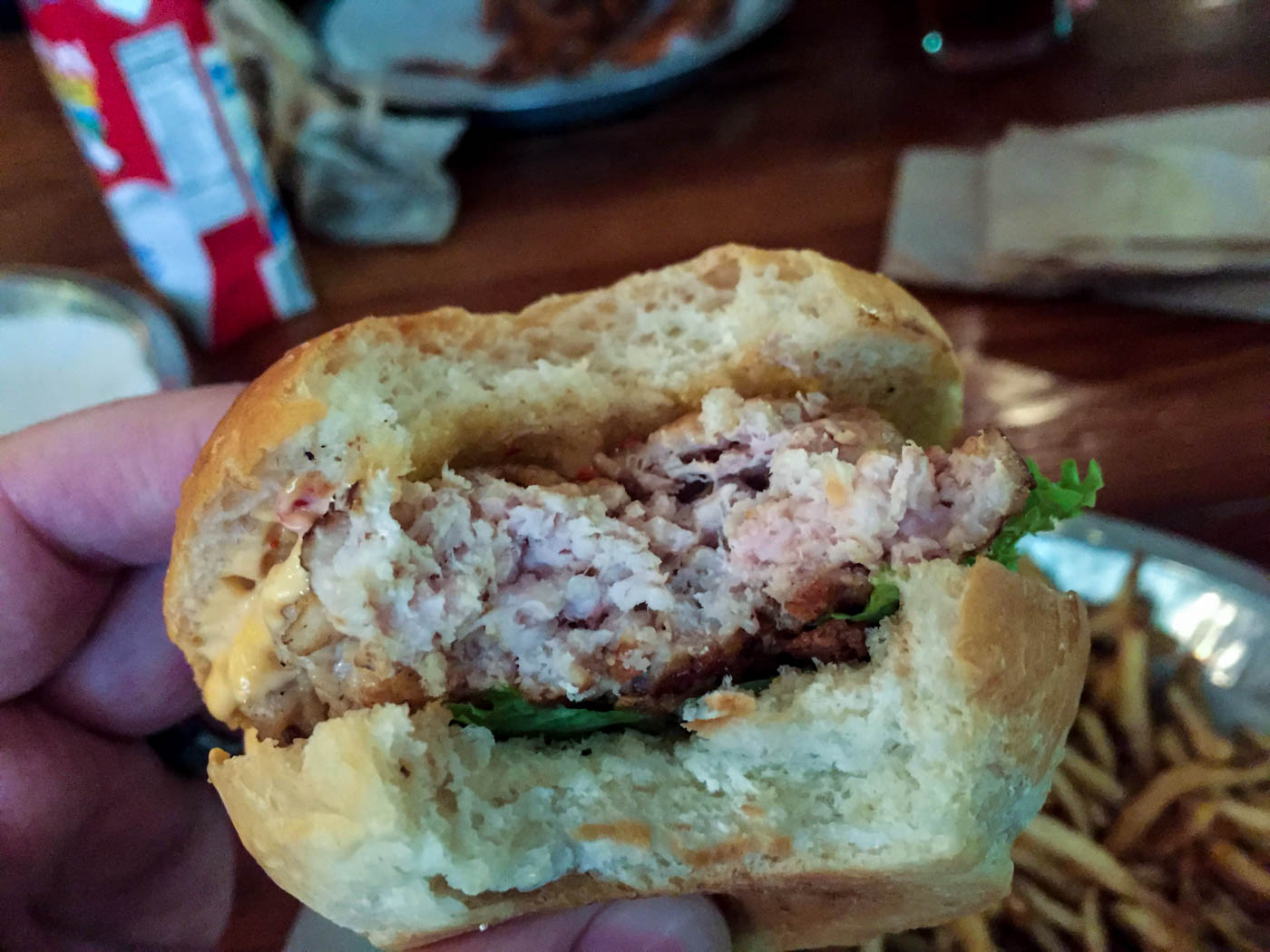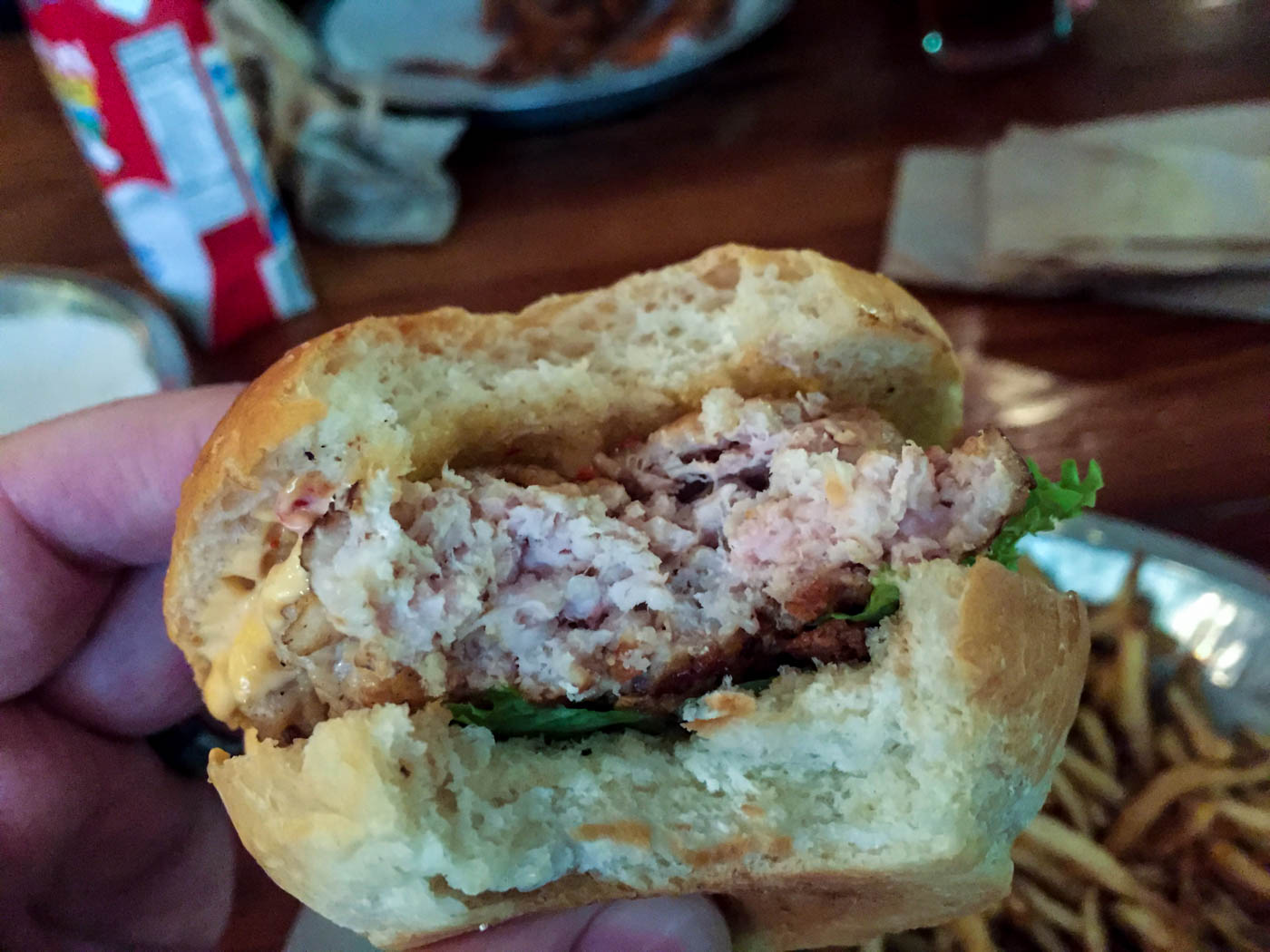 Taking a bite out of it was easy enough and it had a odd combined taste of chicken[ref]Everything tastes like chicken. Especially in the Matrix.[/ref] and crab cakes. Overall, it was GLORIOUS.
What was your favorite thing (non-food) about Bull City Burger and Brewery?
My favorite non-food thing would have to be their Tattoo Promise. Their promise states that if you get one of their three Bull City Approved logo tattoos put anywhere on your body, you get 26% off you meal, FOR LIFE. That is some awesome hardcore dedication[ref]For real. I might do it.[/ref].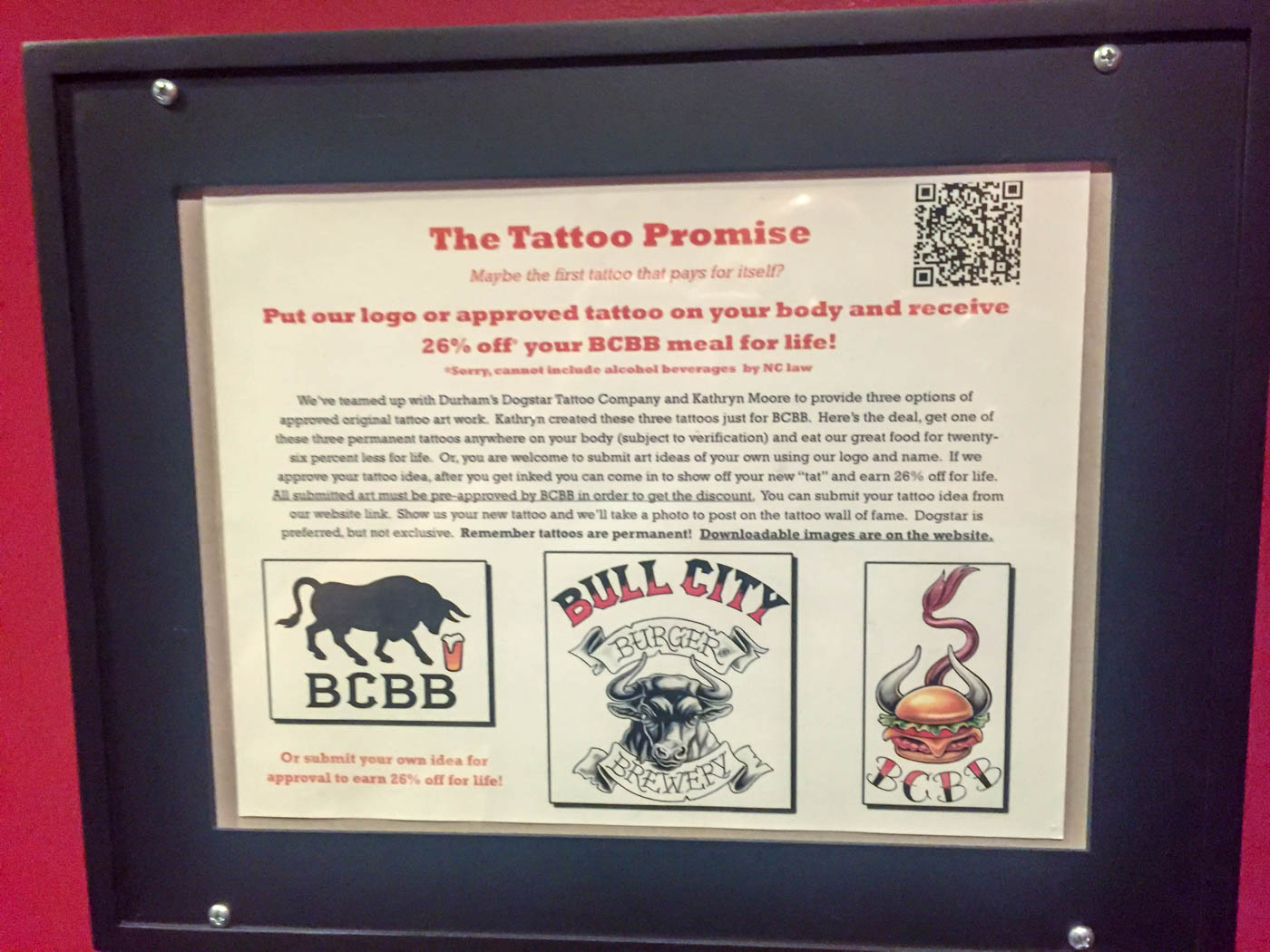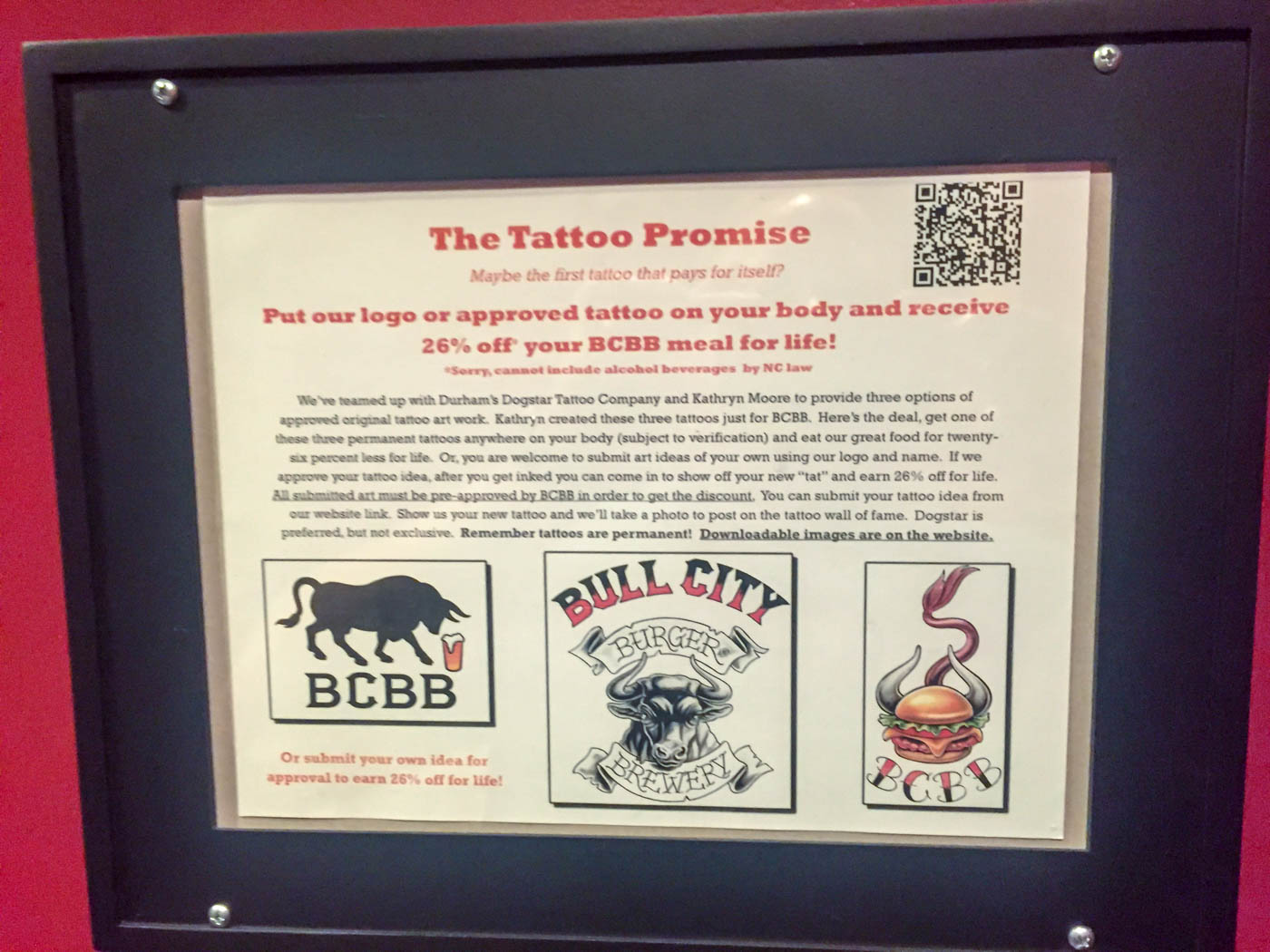 Would you eat here again?
Oh heck yes.
Next time you come by, what will you order?
Probably the Secret Burger once again just to test my theory[ref]Which if Bull City is reading this then they might switch it up on purpose. Or give me the same thing on purpose. Damn these secret societies![/ref]. But I really want to try the Bull nuts and their award winning chili.
Does Bull City Burger and Brewery deserve the Triangle Burger Blog Seal of Approval?
I don't know. Does it? It's a secret. Ok. Yes. Yes it totally does.